~ * ~
This article is written by Michelle G. Brown
Cindy Shepard has created a fun little book called "Stash and Smash", published by Design Originals, 2011.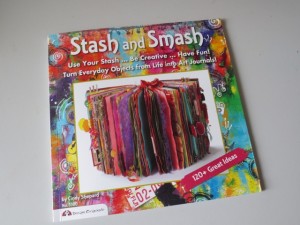 Cindy encourages us to get out our stash of ephemera and bits and pieces and turn them into a work of art. "It's time to rescue your memorabilia and present it in a manner that pays due homage to the emotion of the memory", she says in her introduction. This book leads us through a series of inspiring techniques to help us to just that!
"Stash and Smash" includes over 120 individual techniques, grouped into 19 categories, with a few step-by-step photos, where needed, and a simple overview for the creative prompts that are self-explanatory
I created by own Stash book with a few sheets of water-colour paper, a few sheets of scrapbooking paper and a pile of ephemera I had lying around.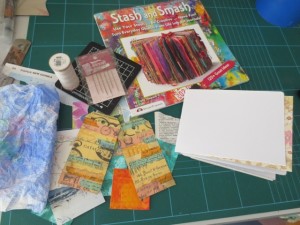 Close up of a few pages:
Cover with dried baby wipe, butterfly and doodling. Letters coloured with Derwent Inktense Block and gold sticker trim
Punched out left over Gelli Prints with a touch of Zentangling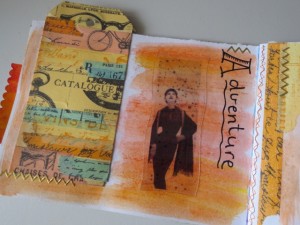 Tag covered with wash tape, background with Derwent Inktense Blocks, with slide transparency and gold sticker trim
Background with Goosebumps resistance with Gelatoes and quote.
Overall, this is a fun and colourful book that definitely sparked my creativity!
You can see more of Cindy's work at her blog – Cyndali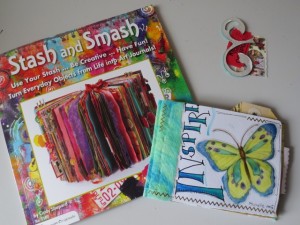 ~*~*~*~*~*~*~*~*~*~*~*~*~*~*~*~*~*~*~*~*~*~*~*~*~
Michelle G. Brown is passionate about mixed media art and enjoys sharing her knowledge and techniques with you to allow you to express your own creativity. Michelle understands that many of us have an inner need to create. By learning a few basic techniques the amazing world of mixed media art is accessible to everyone!
Michelle lives with her husband and two boys in Melbourne, Australia.
~*~*~*~*~*~*~*~*~*~*~*~*~*~*~*~*~*~*~*~*~*~*~*~*~
Disclosure: This book was provided by Design Originals for the purpose of review. All opinions are that of the MixedMediaArt team. The links on this page are affiliate links and any purchases help to support the ongoing work by MixedMediaArt.
.

.