It's no secret that at Mixed Media Arts we support everyone who has an inner need to create. We want to use materials that we have at hand, around the home as much as possible, or are fairly cheap and easy to buy, as compared to corporate lines of specialty papers and embellishments where you need to buy something from the entire range as the colours don't match with anything else. It can be very frustrating.
This post will focus on the tools I have around my desk when painting and creating backgrounds.
Part 3 – Painting Tools
Adding colour using cheap paints is a great way to add colour and mood to your mixed media piece. But I don't use expensive tools; cheap paint brushes will be fine as you are starting out. Rinse them well before using them, to get any stiffness out of the bristles and then dry them on an old cloth (that can become your painting cloth) to remove any loose brush hairs.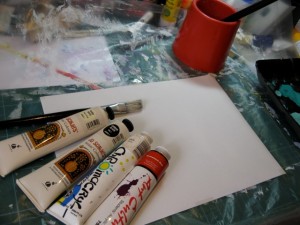 A paint water pot can be a plastic container or reused jar; it needs to be solid, so that won't tip over too easily when paint brushes are in them. Also don't over fill them with water – it is better to change the water over frequently. Make sure you have a cloth on hand for water spillage (take care not to have your water pot and cup of coffee too close together in case you try to put your paint brush into your coffee!)
Another tool I use for adding paint layers is old credit card or store cards, use for paint scraping.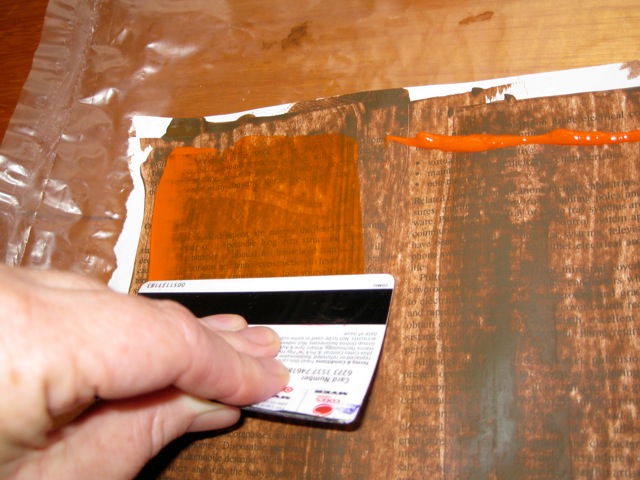 This technique was used in creating many of the backgrounds I have posted across the site, including the small canvas from the ephemera kit.
And if I need a paint pallet, which I don't use very often, I re-use a polystyrene meat or vegetable tray. These can be reused further, as long as you take the time to wash them out after you have finished with them.  More often that not, I won't use a paint pallet; I will mix the paints or add water directly onto the artwork or canvas, but this method isn't for the faint hearted, only the lazy!
I hope this encourages you to have look further around your art area and see what else you have lying around that you can use.
Happy creating!
Here are other materials that I like:
My Favourite Materials – Part 1 Cardboard
My Favourite Materials – Part 2 Text Ephemera
My Favourite Mixed-Media Materials – Part 4 Plastic Sheeting
My Favourite Materials – Part 5 Embellishments
.
.
.