~ * ~
When getting started with gel printing, it's easy to create gel prints that we just don't like! Sometimes with our first gel prints there is too much white space or the second print, also known as the "ghost print", hasn't turned out as we had wanted. But do not despair, we can fix these minor problems with a few more layers.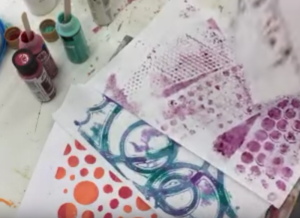 Here Michelle introduces us to techniques to solve the three major problems when we  get when starting out with gel printings.
Argh! Due to technical difficulties, only the first part of the video is playing – we are working on fixing it!
This video was originally shot on Periscope, so it's a bit slow to get started!
When you try these techniques to fix your gel prints, remember the that translucency of your paints makes a big difference with your results. This is where the glazing medium is so important – it makes your paints more see through, which is just what we want when fixing our gel prints, so we can see the lovely layers underneath.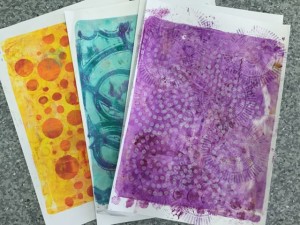 And we'd love to hear from you – what ways and techniques have YOU found to help "fix" your gel prints?
Leave a comment below.