~ * ~
This article is written by Shari Welch
I came up with this tutorial out of need. I needed to find a way to produce a series of artists trading cards with the same background color scheme, with each one being an original little piece of art in itself. I needed to get these out soon so I had to be creative with my time as well. GelliArts gel printing plate to the rescue!
Those of us who have used a Gelli plate will admit, it is VERY addicting. A few of the many facts I love about the gel plate is that it is reusable and cleans up easily. If you haven't used one, the link below takes you to the Gelli Arts website. Their site will give you a better understanding of what the gel printing plate is, and what you can create using it. Besides instructions, projects, and a You tube video, you can order a plate too. www.gelliarts.com
I thought that I would print up two or three pages. But like I said, it is very addicting.
Materials I used:
8×10 printing plate
Rubber brayer
White card stock 8.5×11 (cut to 8×10 after printing)
DecoArt acrylic paints
Yarn, texture tool, cut out decorative paper
Flower masks and stencils by Heidi Swapp
Stencils by Tim Holtz
Stencils by Prima
This template shows 8 artists trading card that can be produce out of a single gel print page if you are using the 8×10 size.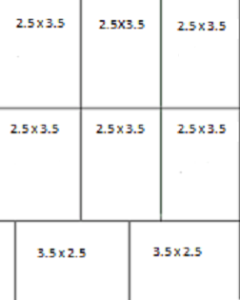 I had a fall color theme in mind, so here are the two finished ATC background sets I choose. I still have a lot of gel prints left for yet another project. I won't complain.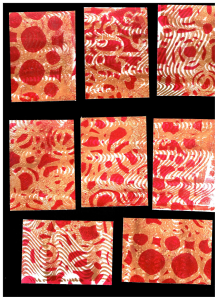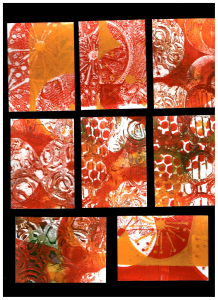 ~*~*~*~*~*~*~*~*~*~*~*~*~*~*~*~*~*~*~*~*~*~*~*~*~
Shari Welch is a mixed media artist living in Denton Texas. She is known for using reuse and recycle materials in her artwork. She volunteers for SCRAP Denton where she is on the education committee, teaches workshops, art camps, and performs art demos. She is passionate about mixed media art and enjoys helping others discover their creativity.
Shari studied graphic design in Portland, Oregon before moving to Denton. Besides writing for mixed media art, she is currently a blogger for DecoArt, was featured in Mixed Media May, and has been in a number of art shows in her hometown of Denton including GDAC "It's in the bag", Thirty for thirty art show, and 3arthwurks gallery show.
You can see more of Shari's artwork at www.facebook.com/my.altered.life
and on her blog shariwelch.blogspot.com
~*~*~*~*~*~*~*~*~*~*~*~*~*~*~*~*~*~*~*~*~*~*~*~*~
.

.