~ * ~
This article is written by Gloriann Irizarry
Hi my dear friends, followers and collectors. I been a little absent minded lately so I wanted to create a piece that will help me out getting a little organized. What's better than a bulletin board. Not any ordinary board but a multi uses one.
Yes a great Magnetic Chalk Bulletin board. Here I will now show you how to make your own OAK board.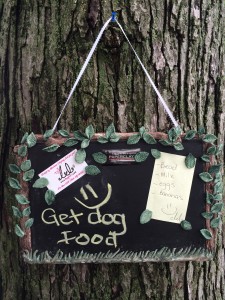 Materials
Creative Paperclay 16 0z
Cookie baking sheet ( I found mine at the dollar Store)
Chalkboard Valspar Paint
Acrylic paints
Paint Brushes
Super Strong Magnets
Fast Grab Tacky Glue
Leaf Cutters
Creating your own Magnetic Chalk Board
I started this project by spraying the can of the Chalkboard spray paint all over the back of the baking cookie sheet and let it dry. For a better chalk writing, I spray 2 coats of the paint.
To get this project going I rolled a big clay sheet manually to a ¼ in thickness.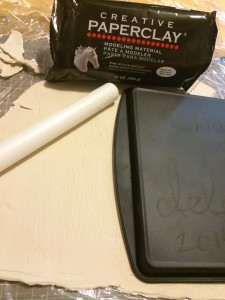 I pre drill 2 holes one on each top corner of the cookie sheet. So I can thread a ribbon to hang the board up. Now use your Xacto or hobby knife to cut a big rectangle that will cover both sides of the cookie sheet.
Roll the clay sheet you just cut so we can start to create the trunks for the trees that will be covering the frame of this Magnetic Chalk board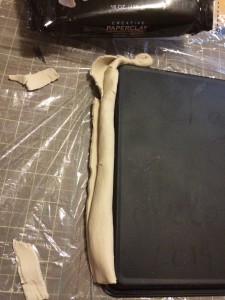 I use a needle tool to draw and create the wood grain effect for the tree.
I will do the same procedure with the other side tree.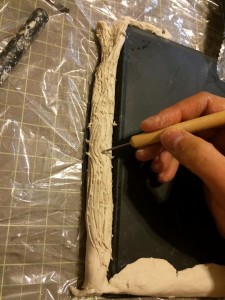 Since nature is so beautiful to begin with the wood grain don't have to be perfect. Feel free to draw lines along the trunk.
I carry the trunk all over the top and draw more wood grain lines.
I dint wanted to be all flat so I give the over lapping trunk effect to give more interest to the piece.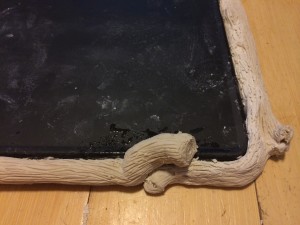 Before the completed top wood trunk dry, I use my needle tool to pierce the pre drilled holes in the clay and let it dry.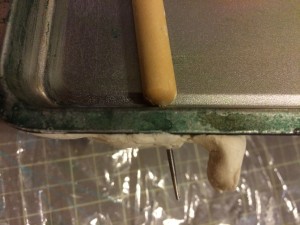 I wanted to add a nice grass effect to the lower portion of the board. I did this by rolling a Creative Paperclay sheet to a ¼ in thickness. Place it on the bottom and with my needle tool cut the grass off.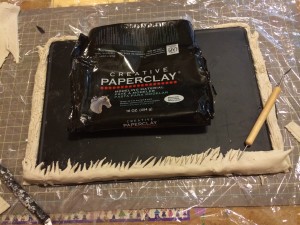 Spray it with water so we can then soften it with a soft wet brush and set aside to dry.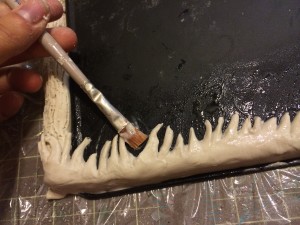 It is Painting time!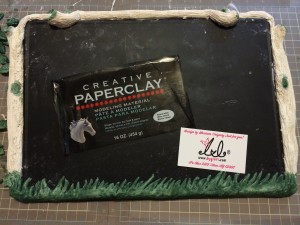 To create the leaf for decoration I rolled again some Creative Paperclay to a ¼ thickness.
Once it is rolled, I let it dry a little not much.
Grab your favorite leaf cutters and start stamping away.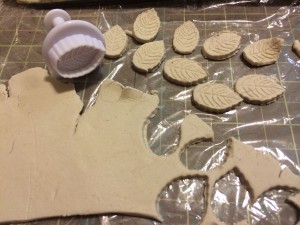 I wanted the magnets to be flush to the board so before they fully dry I pressed the magnet to each leaf that will become a magnet.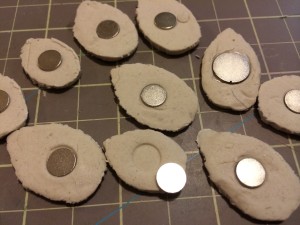 I water the acrylic paint down and started brushing the grass bottom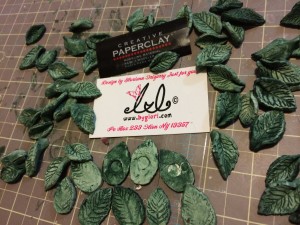 Also painted the leaf and set aside for them to completely dry.
Once they dry, I used my Fast Grab Tacky Glue and glued the super strong magnet to the leaf I had chosen to be the magnetic holder.
I set the magnets to dry backward on the magnetic board so they will hold while the glue dries.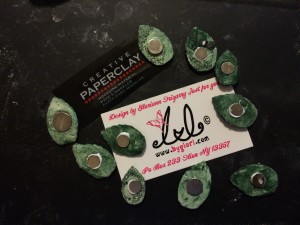 To paint the tree trunk, I water down the brown acrylic paint and brush it lightly to the dry trees.
Set aside for the paint to completely dry.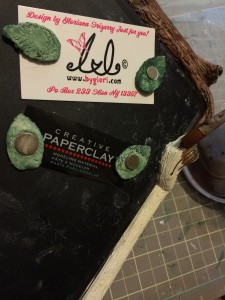 Once the paint had dry, it is time to glue some of those leaf we had work on.
Use your favorite adhesive. Mine is Arleenes Fast Grab Tacky Glue.
Grab each leaf and one by one place a glue dab to the leaf and place it to the tree trunk. Alternate positions to make the leaf look natural while they flow on the Magnetic bulletin Chalk board.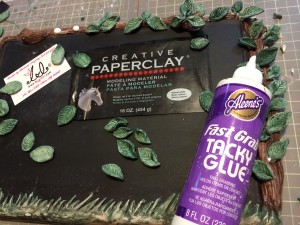 Now it is the time for you to check and see if you like the leaf placement. If you are satisfied, all you need to do is set aside for the glue to completely dry.
After the glue dry get you favorite sealer and brush it on the piece to help it stand the test of time. I choose matte to keep the natural look and keep it looking beautiful.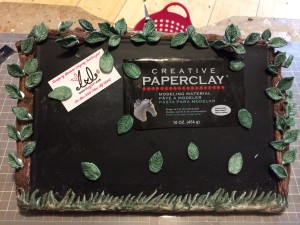 With the help of a needle you can tread a ribbon cut to size to proudly hang your master piece.
Now your new Magnetic Bulletin chalk board is ready to be hang. Feel free to write, pin or stick all your reminders.
I hope this help and allow you to keep track of your events. Please email , post or comment down any question you might have.
Sincerely,
Gloriann Irizarry
~*~*~*~*~*~*~*~*~*~*~*~*~*~*~*~*~*~*~*~*~*~*~*~*~
My name is Gloriann Irizarry. I was born and raised in the beautiful Caribbean island of Puerto Rico. Ever since I can recall, I always had my hands on crayons, scissors and paper. My parents knew from the start how much I love to create!
As a mother of three young wonderful daughters, I find myself working, caring for my family, and taxiing kids from here to there for various sporting events.  I have to say I'm never bored!  I enjoy every little moment I spend with my girls, but will always continue to work time to create art into my daily schedule as that means doing what I love the most. My girls are learning the joys of creating also!
I love to sculpt and will never stop creating. I was born this way and for that I thank GOD every day. Art has been a great way to be creative and to express myself.  I like to keep my hands busy creating – whether it is unique jewelry, art dolls, oak sculpture figures, fairy wings for all your project needs, or even wigs and clothing for your sculptures.  I love all the variety in art! Why? because ART is so rewarding. Seeing your creation take form is an awesome feeling.
You can see more of my work on my website – ByGlori
~*~*~*~*~*~*~*~*~*~*~*~*~*~*~*~*~*~*~*~*~*~*~*~*~
.

.