~ * ~
This article is written by Cecilia Sanchez Peralta
The good thing about Mixed media techniques, is that you can use everything you have at your fingertips, and you can do all kinds of jobs.
A month ago, I launched my collection of digital stamps "Cecily Worlds", a project I've been working a long time and will come out little by little.
Supplies:
Fabrics, digital stamp, printer, gel medium, beads, flowers, stickles, etc
Process
* First I used one of my digital stamps and paint it with photoshop. Then I printed as a mirror image to make the transfer.
* Then I searched several scraps of fabric and I cut the pieces to form my makeup case.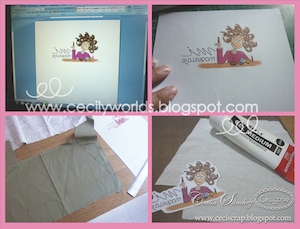 * I put a generous layer of gel medium on fabric and over the printed image.
* Carefully I put the picture face down onto the fabric and pressed to stick it everywhere.
* Then let it dry for 24 hours. (You can also use a heat gun).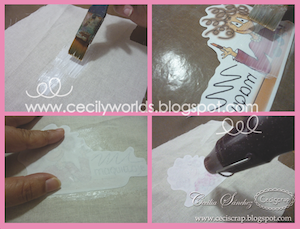 * You must wet the paper with a sponge or "flus flus"
* You have to remove all paper using fingertips gently.
* At the end I decorated a little: A string of beads, some dots with Perfect Pearls, some Prima flowers with a brad … and everything you want.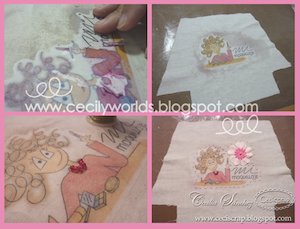 * Then I sewed the different pieces of fabric, I've lined and I put a zipper, and ready. Now I have my custom makeup case.
~*~*~*~*~*~*~*~*~*~*~*~*~*~*~*~*~*~*~*~*~*~*~*~*
My name is Cecilia Sanchez (CeciScrap) and I live in Málaga, Spain. I am married and we have three gorgeous sons. They inspire me every day with their crazy ideas.
In 2006, a few months after birth my twins, I discovered scrapbooking, digital first and then the traditional. I love to do 30X30 pages, cards and mini albums, and for a while now I am fascinated with the Art Journal and Mixed Media, and I do not imagine scrapbooking without getting my hands dirty.
I am inspired by everyday things, feelings … The art journal is a real diary for me, because sometimes I need to express feelings with colors and shapes.
I love learning and discovering new techniques and materials.
You can see more of me at: ceciscrap.blogspot.com.es or at www.facebook.com/ceciscrap
~*~*~*~*~*~*~*~*~*~*~*~*~*~*~*~*~*~*~*~*~*~*~*~*
.

.