~ * ~
This article is written by Sandra Parés
Although in my land these days are still sunny and seems that Autumn resists arriving,  I felt like making a layout with Autumn colors. I love the forest on this season, trees are wonderful with intense colors and a lot of contrast, ideal for shaping it with mixed media!
The supplies I have used to make this Autumn Layout are:
12″x12″ watercolor paper
Gesso
An old credit card
A brush
A sponge
Some scrap paper with script
Some Dylusions inks spray: ground coffee, melted chocolate, lemon zest and pure sunshine
Paper towel
12″x12″ Cosmic Swirl Template, The Crafter's Workshop
Big shot and the Thinlit Sizzix Die – Doily by Rachael Bright
A cardstock
Autumn Leaves drawn in a cardstock (you could print it)
Primary Elements by ColoruArte: burnt amber, gold dust, hot cinnamon, sunburst
Silks Acrylic Glaze by ColoruArte: love struck, pretty peridot
Some stencils to make texture like punchinella
Gel medium
One photo
First of all I have pasted some scrap paper with gel medium over watercolor paper to add some texture (picture 1). Then, with the credit card, I have put a very thin layer of gesso, without covering the scrap paper and leaving without gesso some parts of the watercolor paper.
Then I have added a little color in the background with Lemon zest and Pure sunshine (Dylusions ink spray). I have used these colors to have a light background. Before the ink was dry, I have rinsed it with a piece of paper to clarify the color (picture 2).
As you can see in the 3rd and 4th step, I have put the template in a part of the paper, and the rest I have protected it. Then with the brown ink spray I have sprayed the template.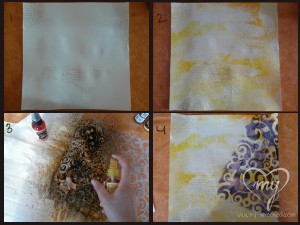 Then, also with the brown ink spray, I have made an irregular frame around the watercolor paper (picture 5). And in the picture number 6 you can see a detail of the background texture.
After I have drawn some autumn leaves on cardstock and I have cut them. And with the big shot and a cardstock I have cut the shape with the doily die.
I have painted all these figures with Silks Acrylic Glaze and Primary Elements. I have directly used the powders with a wet brush (picture 7).
And finally I have added more texture in the background. With a sponge and Silks Acrylic Glaze I have stencilled different templates with punchinella.
As you can see in the 8th picture, one of these textures was too intense and it did not like me. For this reason I have changed the focus of the LO and I have put my photo over this point.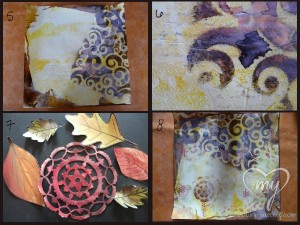 As a last step I have stuck with gel medium all missing elements: doily shape, photography and leaves.
And this is the result: an Autumn Layout with a lot of texture and contrast.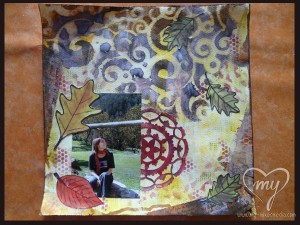 ~*~*~*~*~*~*~*~*~*~*~*~*~*~*~*~*~*~*~*~*~*~*~*~*~
Sandra Parés loves working with mixed media. The colors and textures leave her amazed and she enjoys creating and getting their hands dirty with paint and gesso. She lives near Barcelona and works in her art workshop. On her site My mixed media you can find a mixed media online store, art and craft products, mixed media workshops in Spanish, tutorials, ideas and mixed media techniques.
~*~*~*~*~*~*~*~*~*~*~*~*~*~*~*~*~*~*~*~*~*~*~*~*~
.

.