~ * ~
This article is written by Laura Shelton Thykeson
I just love everything about books, and when I started making these mini books, or as I call them, my "Teeny Tiny Books", I absolutely got hooked on them!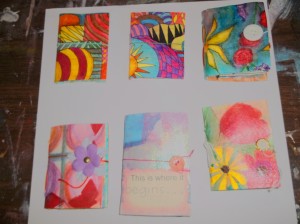 I love working in such small detail, and some of my books have only measured 1" x 1". But, I usually enjoy working with a 4 x 6" piece of cardstock or recycled watercolor paper art for making the cover, and then add a signature of 5 pieces of folded paper on the inside for the pages I am going to embellish. I usually sew the spines using colorful embroidery thread, but if the book is small enough, I sometimes also just staple them together in the fold.
I really love embellishing the pages in these little books, and often give them to others as little gifts. They are great tucked into a card, or tied to a tag on a present, and gives the new owner a wonderful collection of designs and textures and even some of your own poetry, etc. on each page that you made just for them! These little books are also fantastic for using bits and pieces of your recycled art, tiny pieces from old journal pages, lace and fabrics, buttons, brads, anything you can think of.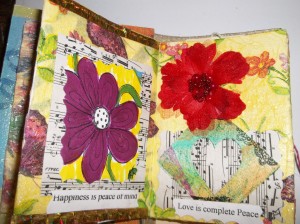 When I am finished embellishing, I usually coat each page with a clear gloss varnish that helps to protect and seal the pages. I just use an inexpensive acrylic varnish made by Sargent, and it works just fine. Just put a nice thicker coat on and let the pages dry completely before you close the book. One other trick I use is to use just a dab of Turtle Wax (yes for cars, lol) and buff the pages, which helps to keep them from sticking together.
If you love books, and like working in miniature, these are a great project for both adults and kids!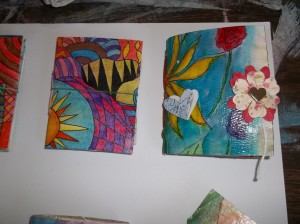 ~*~*~*~*~*~*~*~*~*~*~*~*~*~*~*~*~*~*~*~*~*~*~*~*~
Laura Thykeson has been totally immersed in mixed media art for many years. She discovered altered books and art journals about a year ago and have been hooked ever since! She has always loved mixed media art because of the variety and the "no rules" aspect! Laura lives in Granbury, Texas USA.
You can see more of Laura's work at Taz's Corner
~*~*~*~*~*~*~*~*~*~*~*~*~*~*~*~*~*~*~*~*~*~*~*~*~
.

.