~*~
Stacy Steinborn has taken her gloves off to create this vibrant mixed media painting with coffee filter flowers and water colour paints.
This article is written by Stacy Steinborn from Flooded in Light
As a mixed media artist it is to your benefit to release old habits and experiment with getting your hands dirty.  I remember as a child I loved squishing mud between my finger, the wet almost slimy feel of finger paint, putting glue all over my hands and letting the gooey white substance dry just so I could peel the flaky stuff off, and sculpting with gritty wet sand at the beach.
I attended an art class recently and the instructor put gloves on because she didn't want to get her hands dirty.  My inner child wanted to scream "that is part of the fun!!" By no means do I want to insult anyone who prefers to wear gloves or who hates to get "dirty".  That is not my intentions.  However we are taught as children to not get dirty and to color inside the lines.  I hope to challenge you to take the gloves off, and connect with your art with the sense of touch.  Feel free when you create.  If you have been at an artistic lull, maybe you need to break down some barriers.  Do what you were taught not to do…get your hands dirty and color outside the lines.  Experiment with not being perfect.  You can create harmony with imperfection.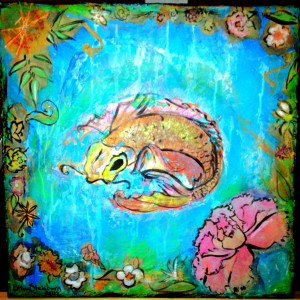 Before I started this piece I had no idea what to do.  I had old coffee filters I started painting dots on with water color…they started looking like flowers, flowers of the Orient…thus inspiration.  With the back ground of the canvas I wanted to create water but with movement.  Layers of greens and blues were not enough.  I sprayed rubbing alcohol and baby oil to add to the affect of ripples and movement.  And for the center I pulled out my old sketch pad. Thumbing through old sketches.  I had old sketches of a few koi fish.  I took tissue paper and traced one image with a sharpie(be careful not to bare down to hard, it will bleed through to your sketch).  After the back ground of water had dried I applied a clear gesso and flattened the tissue image to the painting allowing it to dry over night.  I then took warm water and lightly scrubbed the tissue away from the painting leaving bits of the tissue on the painting for texture.  The ink image had transferred onto the painting.  Then the perimeter of the painting was like decorating a cake.  I added all the coffee filter flowers with a powder based glue mixed with warm water.  After completely drying I added contrast with black paint and random oil pastel for details.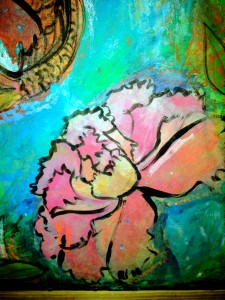 This painting is a series of old sketches, dabbles of water color on up-cycled coffee filters and the need to get my hands dirty so I could feel the piece coming to life.  Most importantly the release of not being perfect by smearing glue, oil pastel, rubbing alcohol, paint and ripped paper "outside of the lines".
I hope you are inspired by creating harmony and approaching your next work like a fighter, gloves off and no fear.
Flood your art with your inner light…
Stacy Steinborn
~*~*~*~*~*~*~*~*~*~*~*~*~*~*~*~*~*~*~*~*~*~*~*~*~
More of Stacy's work can be found on her Flooded in Light blog.
~*~*~*~*~*~*~*~*~*~*~*~*~*~*~*~*~*~*~*~*~*~*~*~*~
.