~ * ~
This article is written by Michelle Brown
This month's mixed media art ephemera sheet is all about Vintage Vacations – I just LOVE these cute vacation brochures that were part of my Great Aunt's H-U-G-E collection of paper ephemera that I inherited. How cool is that font?!? You can get your own copy of this ephemera sheet here ~ Mixed Media Art Ephemera Sheet – Vintage Vacations. We had lots of fun putting this sheet together for you
To ignite your creative spark, I have created this combined altered book layout.
For the first page I decided to highlight a road trip my family took a few years ago – we travelled from Victoria and across to southern South Australia for 4 weeks and over 5,700 km. We only got as far as the outskirts of the Australian Outback but it gave me a glimpse of that part of Australia.
This altered book layout already had a layer of gesso and blue wash – prefect for the endless skies we saw on our vacation. First I printed out the ephemera sheet and tore out the brown brochure; just the shade of the endless dried grassy plains. This was glued in with Paper Mod Podge – Matte.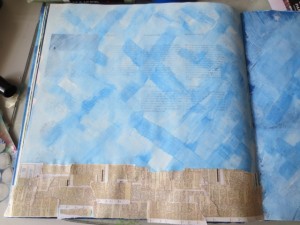 Then I stencilled in some birds (Black Crested Cockatoos) and gumtree trunks with greys.
[You can make your own Gum Tree Trunk stencil using the photos from the Mixed Media Art Technique Sheet]
Then I added some leaves in two shades of green (forgot to take photo of that step!). After printing out a selection of photos (there  were quite a few photos after 4 weeks of vacation!), I edged them in StazOn Stone Gray ink and arranged them onto the layout with double sided tape. The photos were edged with charcoal pencil.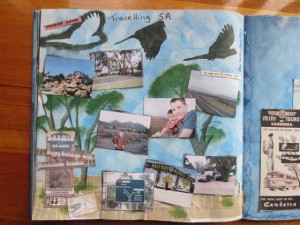 The second page was thrown together along with a page from an old atlas and a few Aussie stickers – this page isn't finished yet as I want to add a photo of my Great Uncle, who was a Coach Driver with Hannaford's Coaches. I'm sure many of these brochures came through him to my Aunt. I love the romantic images these brochures bring to my mind, back in the day when travel around our vast continent by coach and ship.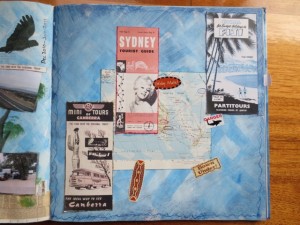 Happy creating!
~*~*~*~*~*~*~*~*~*~*~*~*~*~*~*~*~*~*~*~*~*~*~*~*~
Michelle G. Brown is passionate about mixed media art and enjoys sharing her knowledge and techniques with you to allow you to express your own creativity. Michelle understands that many of us have an inner need to create. By learning a few basic techniques the amazing world of mixed media art is accessible to everyone!
Michelle lives with her husband and two boys in Melbourne, Australia.
~*~*~*~*~*~*~*~*~*~*~*~*~*~*~*~*~*~*~*~*~*~*~*~*~