~ * ~
There is nothing that shares those special sentiments like handmade birthday cards. Michelle has used the images from the Mixed Media art Ephemera Sheet 20 – Vintage Birthday Wishes to create this lovely card. The pink image with the works "To a Dear Sister on her Birthday" captured Michelle's imagination for this handmade birthday cards and she began to pull out pink card and embellishments.
Materials & Tools
Pink "To Dear Sister" image,
downloaded and printed from Mixed Media art Ephemera Sheet 20 – Vintage Birthday Wishes
Pink card [148mm x 210mm / 6″ x 8 1/4″ approx.]
Black card [94mm x 135mm / 3 3/4″ x 5 1/2″ approx.]
Color-coordinate paper [90mm x 130mm / 3 1/2″ x 5 1/4″ approx.]
Pink ribbon [12omm / 5″]
5 chipboard flowers
Cutting mat, craft knife and steel ruler
Scissors
Double sided tape
Black ink and pink ink
Mod Podge Sparkle
Instructions
1. Print out the ephemera sheet and choose an image that appeals to you. Gather materials that suit the color scheme of the image. You will need card and a few embellishments.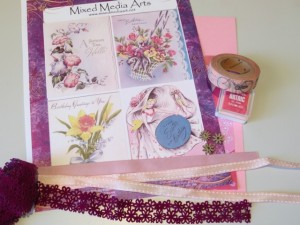 2. Fold pink card in half to create greeting card. I prefer to score the card first to make sure the fold is in the center of the card.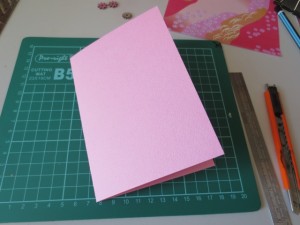 3. Cut black card to size. The measurements provided are approximate only – use your own judgment  to determine what size looks "right" for the layers.
4. Layer black card and ribbon onto pick card with double sided tape
5. Cut printed paper to size and attach onto card with double sided tape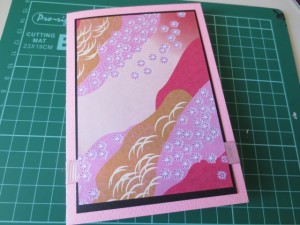 6. Cuto out image from ephemera sheet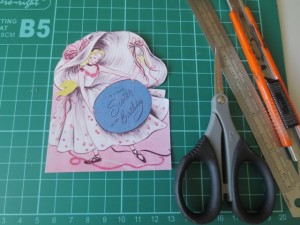 7. Edge image with black ink and attach to card
8. Color chipboard flowers with pink ink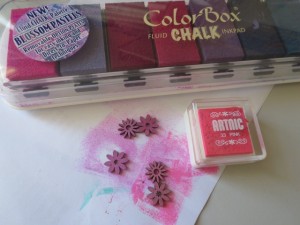 9. Using Sparkle Mod Podge, attach pink flowers and leave to dry. Add other sparkle highlights to image, as desired.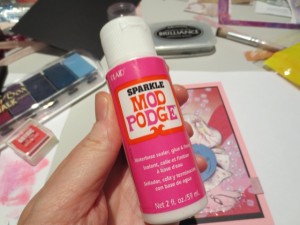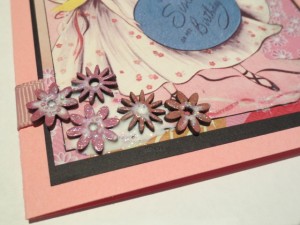 10. Your handmade vintage greeting cards complete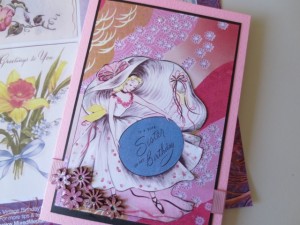 Happy creating!
~*~*~*~*~*~*~*~*~*~*~*~*~*~*~*~*~*~*~*~*~*~*~*~*~
Michelle G. Brown is passionate about mixed media art and enjoys sharing her knowledge and techniques with you to allow you to express your own creativity. Michelle understands that many of us have an inner need to create. By learning a few basic techniques the amazing world of mixed media art is accessible to everyone!
You can see more of Michelle's work at Mixed Media Art or via Facebook – Creating Mixed Media Art
~*~*~*~*~*~*~*~*~*~*~*~*~*~*~*~*~*~*~*~*~*~*~*~