~ * ~
This article is written by Cecilia Sanchez
I like to look for inspiration in the shapes, colors and textures of nature. Seeking inspiration I found a tree that had many things to tell me.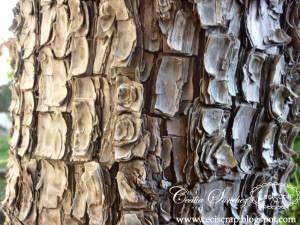 I started trying to reproduce the shapes, layers, shadows, but not knowing how it would end.
Gradually, the creative process leads you to the final draft.
Sometimes you see the end result from the beginning, but sometimes you need to wait several days and re-cover it with new layers.
This is the best of "Mixed media": Anything goes!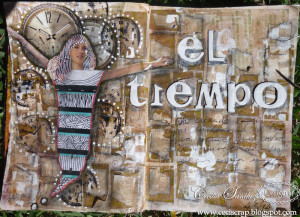 Here is a video with the whole process.
~*~*~*~*~*~*~*~*~*~*~*~*~*~*~*~*~*~*~*~*~*~*~*~*~
My name is Cecilia Sanchez (CeciScrap) and I live in Málaga, Spain.
I am married and we have three gorgeous sons. They inspire me every day with their crazy ideas.
Since my childhood I liked the photography, drawing, collage and make photo albums with cuts and travel souvenirs. I also love crafts in general. In 2006, a few months after birth my twins, I discovered scrapbooking, digital first and then the traditional. I love to do 30X30 pages, cards and mini albums, and for a while now I am fascinated with the Art Journal and Mixed Media, and I do not imagine scrapbooking without getting my hands dirty.
I am inspired by everyday things, feelings … The art journal is a real diary for me, because sometimes I need to express feelings with colors and shapes.
I love learning and discovering new techniques and materials.
I am part of the European design team of KURETAKE, and I am also designer for a monthly blog challenge Sweet Card Club. I contribute with some blogs and digital magazines and organized Scrapbooking workshops in Malaga.
You can see more of me at:
~*~*~*~*~*~*~*~*~*~*~*~*~*~*~*~*~*~*~*~*~*~*~*~*~
.

.