~ * ~
This article is written by Michelle G. Brown
It's the time of year again when I need to whip up some handmade greeting cards for Mothers Day. As I have such fun playing with this Versamark resist and PanPastels technique, I thought it would be prefect for this year's cards.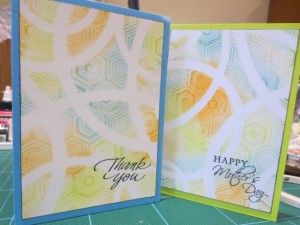 Materials for Handmade Greeting Cards
– Strathmore Mixed Media or Bristol paper
– Large stamp here I used Hero Arts Hexagons S5667
– Pan pastels 280.5 Orange , 680.5 Bright Yellow Green and 580.5 Turquoise
– Range of Sofft Art Sponges
– Stencil L238, designed by Michelle Ward, by Stencilgirl
– matching coloured card
– 2-sided tape
Instructions for  Handmade Greeting Cards
1. Remove a sheet of Mixed media or Bristol paper from the pad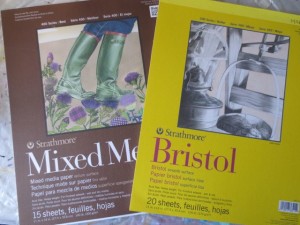 2. Using Versamark ink, stamp large stamp image around paper
You can just see the design here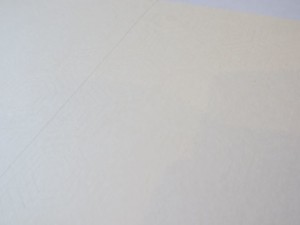 3. Place the stencil over the stamped card and secure with masking tape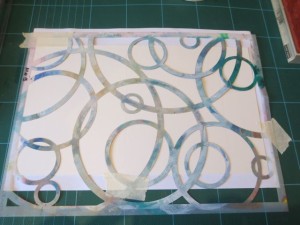 4. Using a light circular motion with the sponge, add a little orange PanPastel onto the card, going over the stencil.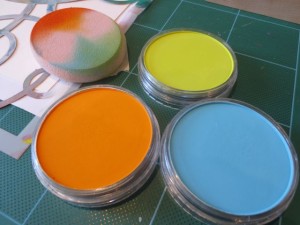 Then the magic happens – the stamped pattern appears!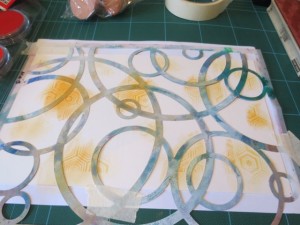 5. Add the green and blue. Keep adding color slowly until you are happy with the result. You can blend the edges between the colors to fade out any sharp lines. I like using the lighter color (the green here) to blend the transition between the colors.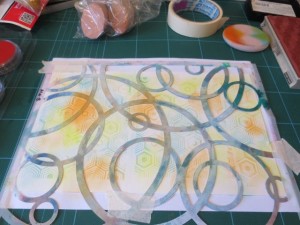 6. Carefully remove the stencil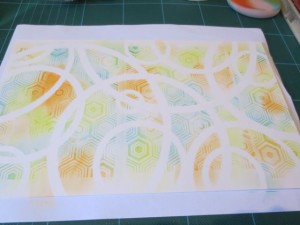 7. Spray with a workable fixative.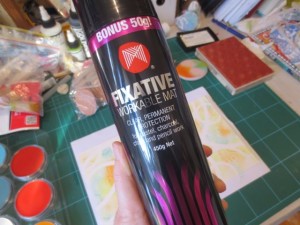 This step isn't mandatory but I hate stuff rubbing off, so I live using this spray. It only takes a few minutes to dry.
8. Find matching colour card to be the base of your card. Here I have chosen an orange, a green and a blue. This card is 210mm x 148mm, folded into A6 (148mm x 105mm)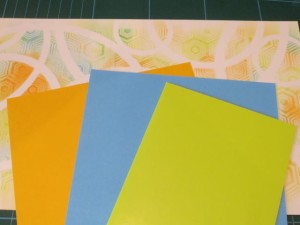 9. Using my paper guillotine, I cut the colours background to fit onto the card (138mm x 95mm)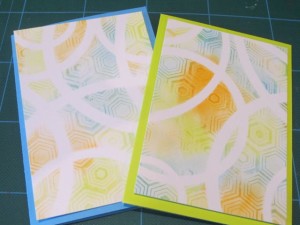 10. Stamp greeting with black ink and edge the background card. Set aside for a minute or two to dry.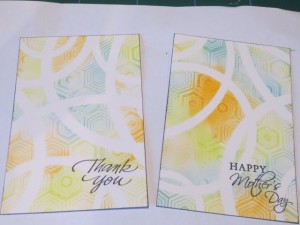 11. Use 2-sided tape to stick the two layers together.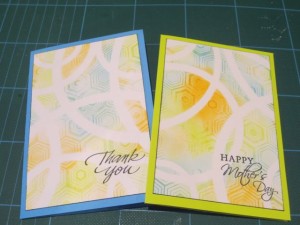 I also had a play with a few other colors and mixed and matched the greetings and background card.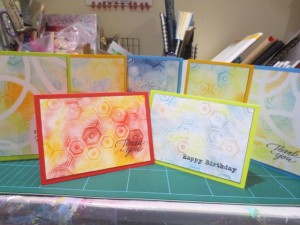 ~*~*~*~*~*~*~*~*~*~*~*~*~*~*~*~*~*~*~*~*~*~*~*~*~
Michelle G. Brown is passionate about mixed media art and enjoys sharing her knowledge and techniques with you to allow you to express your own creativity. Michelle understands that many of us have an inner need to create. By learning a few basic techniques the amazing world of mixed media art is accessible to everyone!
Michelle lives with her husband and two boys in Melbourne, Australia. When she is not creating or on Facebook, she's at karate training. Just to make sure she's properly busy, she has also adopted the From Picture to Page Scrapbooking and Papercrafts Show
~*~*~*~*~*~*~*~*~*~*~*~*~*~*~*~*~*~*~*~*~*~*~*~*~
Disclosure: Some of these PanPastels were supplied by Colorfin and some were bought with our own money.  All opinions are that of the MixedMediaArt team. Some links on this page may be affiliate links and any purchases help to support the ongoing work by MixedMediaArt. 
.

.