~ * ~
This article is written by Tamara Dinius
Tamara created this functional mixed media tote bag using canvas fabric and Tattered Angels High Impact paints. Though the creamy, rich colors of Tattered Angels High Impact paints make painting canvas fabric a breeze, one could use almost any brand of acrylic or fabric paints and receive similar results. Tamara created the sewing pattern for this bag but any store bought sewing pattern or canvas tote could be used as well. Even though Tamara will focus on the mixed media techniques of the project and not the sewing of the bag, she will be sharing some sewing tips that will add interest to the final product.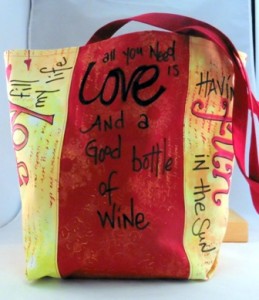 Whether you use your tote for groceries, travel, or about town, you can add a little panache to your day with this stylish bag.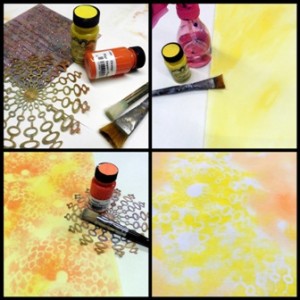 Top left: Items used are a spray bottle, Tattered Angels High Impact Paints (or acrylic/fabric paints of your choice), stencils, brushes, and permanent markers (not shown).
Top right: Spray your canvas fabric with water and then apply your yellow paint in a haphazard motion.
Bottom left: While still damp, apply your orange paint using a stencil and stencil brush. Please do not try to be precise as this is just your background. A casual approach will give your finished piece a more artsy feel.
Bottom right: In another area of your bag, add water and your yellow paint using a stencil of your choosing. I added the stencil work before the orange background paint so that I would not lose the vibrant yellow color. Next, add some orange around your yellow pattern. Again, this is to keep the vibrancy of the yellow.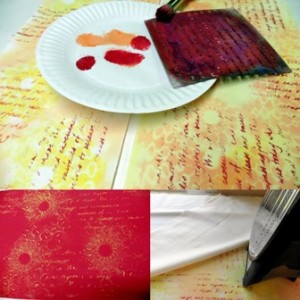 Top left: I added additional interest by applying script writing with a stencil and red fabric paint.
Bottom left: Spray water on your contrasting canvas fabric and apply orange and yellow paint using your stencils. At this point we are creating some consistency across the fabrics.
Bottom right: Heat set your paints by using a piece of muslin as a pressing cloth. I ironed both sides of the fabrics on a cotton setting.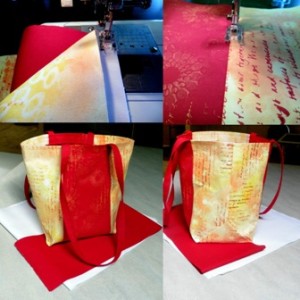 Top left: I sewed the bag together using a 16 needle as the fabric is quite heavy.
Top right: By using a contrasting thread and topstitching the seams you create some wonderful details on the finished bag. It would also be fun to add some freestyle quilting to the bag using different colored threads. I may try this on my next bag.
Bottom left: I added long handles to the bag using the same red canvas fabric that I used for the middle portion of the bag.
Bottom right: Side panel of the bag. You will also notice the transformation of the original fabric by the white and red canvas fabric that the tote bag is sitting on.
The really fun part of the project! I took permanent markers in varying colors and started adding wording and a few doodles. You can let your imagine run free and embellish the heck out of your bag. I will be adding more doodles and lettering as time allows.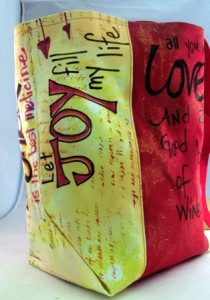 I hope you have a great time creating your own tote and wishing you much joy in your life!
~*~*~*~*~*~*~*~*~*~*~*~*~*~*~*~*~*~*~*~*~*~*~*~*~
As well as mixed media tote bag, Tamara Dinius creates from her studio on five acres in the Pacific Northwest with her husband and chocolate lab. Most days you will find her covered in flecks of paint, with a cup of coffee in her hand, and a smile on her face.
Her love for mixed media has taken over most aspects of her creative life. She believes mixed media allows for a broad range of styles and anyone can find success in this form of artistic expression.
You can find more of Tamara's work, and on her website www.womenwineandwords.com or via her Facebook
~*~*~*~*~*~*~*~*~*~*~*~*~*~*~*~*~*~*~*~*~*~*~*~*~
.

.