~*~
This article is written by Joy Bathie
I have always loved books and my interest was expanded after attending a workshop at the State Library of NSW in Sydney some years ago, where I learned how to construct a basic hard cover codex book.  Since then I have experimented further and my repertoire now covers "handmade artist's books" of various types and sizes, filled with colour and texture.  I'm now creating smaller books and enjoy making 'LFB's" (Little Fat Books) which are generally 10.5cm x 10.5cm (4" x 4") square; I love this size, which sits so nicely in the hand.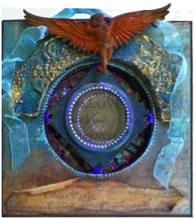 This page from an LFB looks through the central circular  cut-out to the following page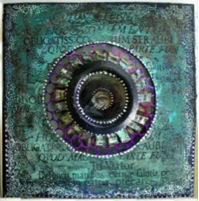 Here is a the page beneath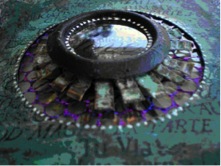 and the close-up view.
Altogether there are five layers of colour and texture, plus clear and printed acrylic windows. Amongst other recycled materials these pages incorporate painted curtain rings and other circular metallic pieces, soft drink bottle caps cut, rusted, and patinaed, and also pulcinella (sequin waste).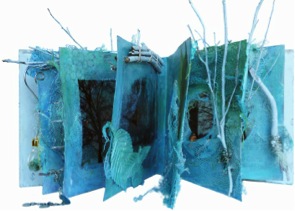 Here is another LFB, called "Twigs", with two of its pages.  Again, each page in this book has a central cut-out section to view adjacent pages.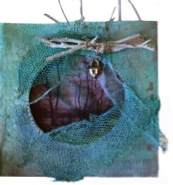 ~*~*~*~*~*~*~*~*~*~*~*~*~*~*~*~*~*~*~*~*~*~*~*~*~
Joy Bathie lives in Port Stephens, NSW, Australia. You can see what Joy is up to over on her Facebook page.
~*~*~*~*~*~*~*~*~*~*~*~*~*~*~*~*~*~*~*~*~*~*~*~*~
.

.