This article is written by Melanie Statnick
Summer time. Every child in the world loves summer break from school.  Knowing that this is quickly coming up or is already in session for the at home mom/working artists trying to find something to keep the kids happy and busy can be a job in itself.   It can also suck the creative life out of you.  Face it, kids have high energy and they siphon it from you like little gas tanks.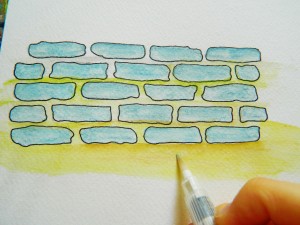 Its late the kids are in bed, and you are out of mojo. Where do you get inspiration over the summer? From your inner child of course. We have all read articles on how to let your inner child guide you through art, talking to it, playing etc… But does it really influence your art? Can you really let go and just do some art play? For no reason but to just create?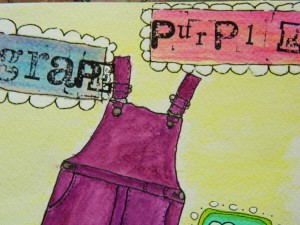 I live in a different country then where I grew up and spent many summers enjoying the great outdoors.  Thanks to the internet I was recently able to take a virtual tour of the streets where I grew up. The nostalgia was overwhelming.  Remembering that little girl, playing in the yard, climbing the wall across the street and discovering new things, watching all my favorite TV shows, I was even reminded of the grape purple overalls I wore out running and biking around. I wore them everywhere.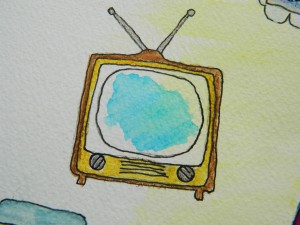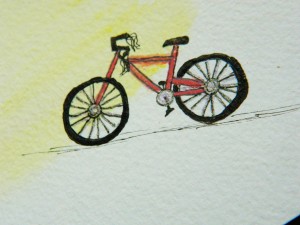 This reminder of how much fun and new summer felt inspired me to get into the groove again.  I took out my watercolors and just played. Doodling and painting all the wonderful things that made my inner child feel good.  This is a great prompt to help you get started if you are stuck for journaling or painting.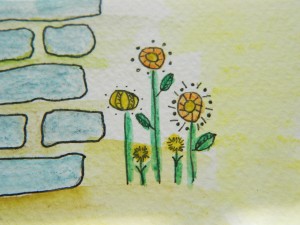 Look through old photos of you growing up, where you liked to play, were you liked to play the most, the imagination you had to play house and make forts in trees, the fun friends you made over the summer. Summer vacation can look a lot brighter when you remember how to play like a kid.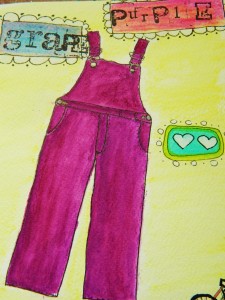 ~*~*~*~*~*~*~*~*~*~*~*~*~*~*~*~*~*~*~*~*~*~*~*~*~
Melanie Statnickis a Published Artist out of North Carolina USA. Melanie creates art daily from her private studio. Her style is fun, whimsy and eclectic. Melanie is also an Art Instructor for local venues and community colleges for students of all ages. Learn more about Melanie here at www.melaniestatnickart.com and www.mixedmediaart.net.
.

.