~ * ~
This article is written by  Ann Strecko Koeman
In a previous article I contributed to turning some of you into enablers of the collecting (NOT hoarding) kind (see "Are we Collectors or Hoarders?").  Today I am presenting to you some of the ways I choose to organize my massive collections of art supplies and materials.  May this be of help to you and may the force be with you as you partake in some spring cleaning in your own studios.
One of the many items I collect are ribbons and trims.  I include cords and other long fibres in this category.  I find new ribbons, trims, yarns, cords, and threads in a variety of places such as Dollar type, department, grocery, hardware, fabric, craft and other stores.  I tend to buy all things on sale or in clearance bins.  I also visit and purchase from thrift stores, flea markets, garage sales and  ebay.  Finally there is all the free stuff I find through friends and family, Free Cycle, and any thing that enters my home and can be recycled such as string, shipping bands, rubber elastics around the vegetables, and old clothing unfit for donating but fine for recycling.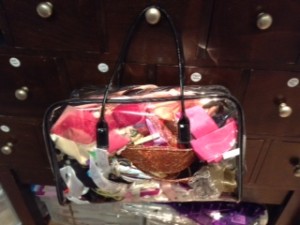 Now putting away the new items is fairly simple, as I just store them with other like minded items in my studio in designated  and labelled drawers, shelves and bins.   When it comes to the items I get second hand, these I deal with slightly differently.  First, if the new/old item is unused I just store it with other like minded materials.  However if the items are used or come in tangled messes of pieces then I need to tackle and conquer.  Usually I just dump these treasures into a big see thru purse that I found at my local thrift store.  The bag hangs from one of the drawers in my studio until I am in need of just a small bit of something for my project.  Once in a while I dare to plunge into the treasure bag and do some organizing by retrieving the longer pieces, wrapping them around some cardboard and storing them in a designated bin.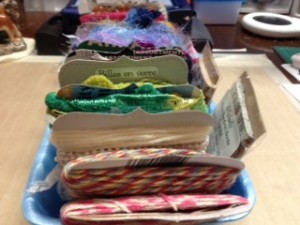 As I have a larger then necessary collection of fibres I find that keeping just a sample (of 3 metres) or so wrapped around a piece of recycled and die cut cardboard easier to store in my crafting area, while the bulk of my yarns, and such are stored in a storage closet.  I made some cards with the help of some cardboard taken from the recycling bin that I die cut into large labels.  I cut pieces of each yarn I own and wrapped them around the card.  I also took the time to colour coordinate my wrapped cards to make it visually appealing.  I find that by having a bin with most of my trims in sight makes it more likely that I will use them, as I tend to forget what type of goodies I have.  This system also makes my ribbons, trims, etc a lot more portable to classes and events.
~*~*~*~*~*~*~*~*~*~*~*~*~*~*~*~*~*~*~*~*~*~*~*~*~
Ann is a Mixed Media Artist working in the capital of Canada.  She is surrounded by wild life inside her home (she has teenagers) and outside her country home.  All this nature is inspiring in her art work.  More of her work can be viewed on her blog Annmakes at annmakes.blogspot.com
~*~*~*~*~*~*~*~*~*~*~*~*~*~*~*~*~*~*~*~*~*~*~*~*~
.

.