~ * ~
This article is written by Michelle G. Brown
It's not very often that we see something new in crafting that leaves us completely impressed, mesmerised and totally wondering why we didn't think of that! That was how I felt when I came across the Linnie Blooms booth at CHA Winter Show 2015. The booth was filled with lovely stitched canvas pieces. That was not remarkable in itself; what was remarkable was here was a range of alterable, mixed media items, made from canvas and recycled ephemera, with stitching and I didn't have to do any of the sewing! The products were all made up – I only had to decorate them!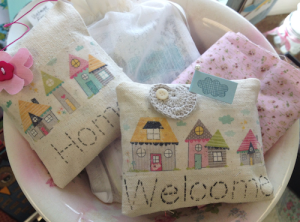 That was my first introduction to Lindy Barutha and her company Linnie Blooms ~ Mixed Stitched Media Products. Their range includes both substrate items – 12×12 panels, stitched journals and mini folios, as well as canvas embellishments, in the shapes of flowers, butterflies and many other designs. Included with the canvas stitched pages are recycled ephemera, like old encyclopaedia pages, sewn into the pages to give them their unique feel.
Linnie Blooms debuted at the CHA New Exhibitors section, although Linda has been building Linnie Blooms since mid 2013. Based in Wisconsin, Linda has always been a creative one and loves to create her own designs, which she is now sharing with the world. As the business has grown, Linda has had to move from sewing all of the pieces herself, to having a few sewing assistants. Now Linda works with a US based company, who employs people with disabilities, to make all of her elements and pieces. Linda feels very strongly about keeping her projects made in the United States.
Once the excitement of CHA had quietened down, I caught up with Linda, via Skype, to see how Linnie Blooms is going.  Linda excitedly informed me that her new Design Team had been selected for 2015, with artists and crafters from across the USA, as well as Canada and Spain. Linda is also working with two major online retailers to provide stitched kits; the details are still being finalised, so we need to stay tuned for updates. As well as all of this, Linda will also be releasing over 40 new products and kits by the end of April 2015. These include a stamp set, with a stitched sunflower and greetings, more new stencils and masks and canvas die cut words.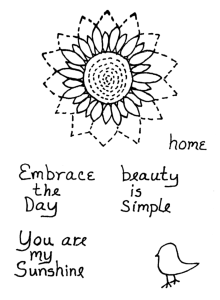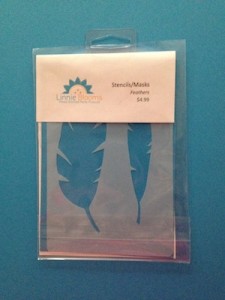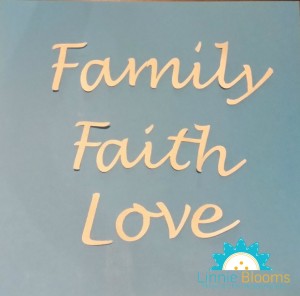 When it comes to decorating our pieces from the Linnie Bloom range, we can use our current art supplies. We don't need any special fabric supplies – "I just use acrylic paints to add color," Linda tells me, "and thinned with a little water so that the canvas doesn't go too stiff. You don't need to use fabric mediums unless you plan on washing your creation". And when it comes to joining pieces together, we don't need to sew a stitch, unless we want to.
"If I'm in a hurry, and I usually am," says Linda, "I just use a hot glue gun to stick the flowers or leaves down. If I have time to let the pieces sit, I'll use Aleene's Fabric Fusion, but Mod Podge or any glues will work".
One of Linda's favourite kits is the "Watch me grow" kit which uses a 12"x12" stitched canvas panel as the substrate. You add the scrapbooking papers and photos to capture the first 12 months of a baby's life or any other event you would like to capture. This makes either a great gift or a lovely keepsake to put on display as your child grows through those first 12 months.
The next few months will continue to an exciting time for Linda and Linnie Blooms. In April, CHA will be featuring an online workshop, hosted by Linda, which features the Linnie Bloom kits. Linda is also heading to Chicago for the Society of Decorative Painters Conference in May 11 to 16, 2015 and the CHA Paper Arts Plus show in Illinois, July 21 to 23, 2015.
Keep an eye out for the Linnie Bloom range – you can browse through their online store or through your local retailer.
~*~*~*~*~*~*~*~*~*~*~*~*~*~*~*~*~*~*~*~*~*~*~*~*~
Michelle G. Brown is passionate about mixed media art and enjoys sharing her knowledge and techniques with you to allow you to express your own creativity. Michelle understands that many of us have an inner need to create. By learning a few basic techniques the amazing world of mixed media art is accessible to everyone!
Michelle lives with her husband and two boys in Melbourne, Australia. When she is not creating or on Facebook, she's at karate training. Just to make sure she's properly busy, she has also adopted the From Picture to Page Scrapbooking and Papercrafts Show.
~*~*~*~*~*~*~*~*~*~*~*~*~*~*~*~*~*~*~*~*~*~*~*~*~
.

.