Bringing a variety of elements together is what mixed media art is all about. The challenge is how we do this so that our finished artwork looks cohesive and pleasing to look at. The ability to do this is a skill we develop over time and through practice. Here we will look at the three main elements to be considered when putting your mixed media piece together.
1. Layering
Creating a background that has lots of interest and visual texture is done through adding many layers. The use of collage elements, paints, markers and images can be blended in many ways. Using areas with darker colours will provide contrast. Using text and shapes will create interest as our brains try to recognise and make connections with familiar elements. Drawing words or images into texture pastes or Gesso will creates shapes that can show through layers. As each layer is added, consider if you need to allow it to dry or whether blending while wet is preferable.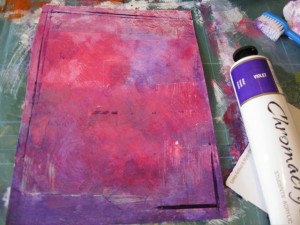 2. Blending
As the background layering is being added, some blending may also be needed. When paint is applied more thickly, it can cover up parts of the underlying elements. In other areas, removing some paint with a damp cloth will allow bits to show through.
Tissue paper is great for adding images when the background is too hard to stamp on but you want the image and background to blend seamlessly. Stamp directly onto the tissue paper with permanent ink (like StazOn Ink Pads
– Jet Black), tear around the outline and use gel medium (Golden Matte Medium
) or varnish to stick it to your piece. Coat all surfaces with lots of gel medium, gently remove any bubbles from under the tissue paper and allow to air dry.
Using torn, natural lines will make blending the images into the background easier. Hard straight lines will stand out and break up the seamless transition we are trying to create.
The paint colours also need to be blended. Considering the colour pallet you have chosen, it is easier to blend similar colours. Blending the paints directly onto your artwork, using a little water, will help the transitions come together.
3. Arrangement
The arrangement of each element will influence the final balance and transitions of your work. Having images and text overlapping with the elements in the background will help to blend the edges of each element. If you are sticking many heavy embellishments, you need to consider if the backing piece will be strong enough to support these layers.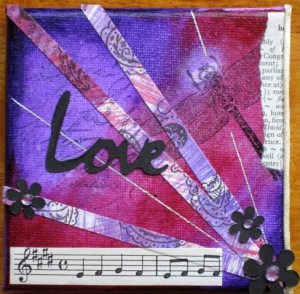 And remember, as with any mixed media work, there are no rules, only guidelines, so give yourself permission to play and experiment. Try not to over-think your work.
Happy creating!
.
.