This article is written by Linda Giese
For the past year I've been putting papers over my plastic covered workspace. It began when I found a roll of thermofax for a dollar at a thrift store.  I put it on my workspace and soon it filled up with random stamps, paint splatters, doodles and notes.  I tore off another sheet and saved the first for collage fodder. I progressed to large sheets of newsprint that came as packing material in boxes.  A friend even gave me old architectural plans she was going to throw away.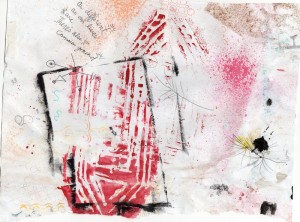 This is an easy way of making original collage papers to make your art unlike anyone else, and it won't even take extra time!  Now I glory in messing up my surface papers with ideas and oversprays.  Since I teach at my dining room table, there are class notes and ideas for what my students want to learn next.  I test out new stamps and "stamp off" ones I'm using.  There are scribbles trying to get a pen to write or see what color it is.  Sometimes there is even a random fruit label!
I'm not likely to run out of clean papers to mess up, but thought of an idea if I did.  I'd take sheets of junk mail with clean backs and tape them together.  Or as I've done, use sheets of scrapbook paper I don't like that perhaps came in a stack of paper.  If you take a class, perhaps you can mess up newspapers under your work there too!  Good luck and happy splatters!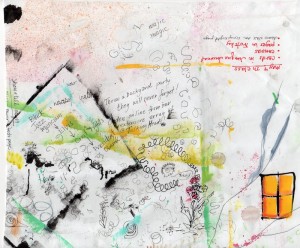 Materials I used for my canvas:
Underpainting is blended background of Americana orchid, butter and baby blue
I applied the torn collage papers with Americana DecouPage as well as the Dover clip art woman image
I used the above paints plus Americana cad red, bright yellow(to make the flesh color) and true blue for shading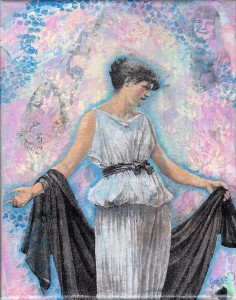 ~*~*~*~*~*~*~*~*~*~*~*~*~*~*~*~*~*~*~*~*~*~*~*~*~*~*~*~*~*~*
Linda Giese encourages comments, questions, and sharing your art journey at linda.giese@yahoo.com
She teaches classes privately and at a local scrapbook store, The Stamp Addict
~*~*~*~*~*~*~*~*~*~*~*~*~*~*~*~*~*~*~*~*~*~*~*~*~*~*~*~*~*~*
.

.