~ * ~
This article is written by Kim Kelley
For this month's project I decided to try something a bit different on this canvas, instead of using products that were all the same color and style; I chose anything I found in my drawers and jars. Found some metal pieces, flowers of different sizes and some charms to go with the faith theme.
Finished Project 1
Here is a list of what I used:
~ 8 X 10 canvas
~ White gesso
~ Spray mist by Lindy's Shabby Turbine Teal, Mad Hatter Mint, Dark Chocolate Truffle, Opal Sea Oats
~Spray mist by 13 arts Pearl Brown Light
~ Spray mist by Smooch Vanilla Shimmer
~ Chipboard from Dusty Attic
~ Miscellaneous charms and flowers from stash
~ Glue gun
~ Finishing spray by Krylon
I glued them all onto the canvas with my glue gun and used gesso to cover all the pieces. I did not completely cover the canvas, just out a bit from each embellishment.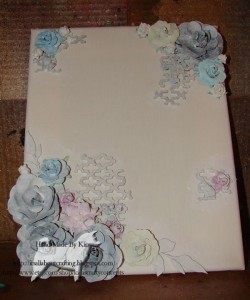 Gessoed Canvas
After a few hours of drying time I picked my mist colors, starting with a few shades of brown. At this point I realized I made a huge mistake, having not used the gesso over the entire canvas made the sprays puddle and not color the canvas.
Bad Spray
I dried off the wettest part and added more gesso. I used some that I watered down a little and
covered all the areas I missed. And after that dried I started in with my sprays. I really wanted a color palette that could complement any home décor, so sticking with browns I added some teals.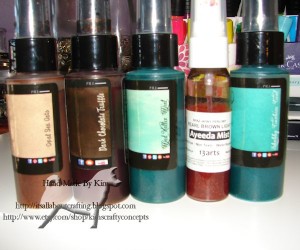 Chosen Sprays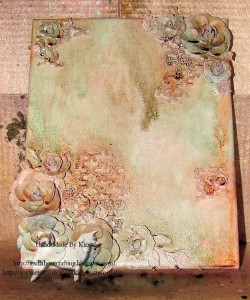 Good Sprays
At this point my OCD kicks in and I start to question if I have added enough of one color or the other, if I need to add more embellishments, second guessing the color choices and even adding more of all the colors! Crazy, I know. Finally deciding it's all good and making myself stop and just let it be!
I printed a saying that I am hoping will offer some comfort to a friend of mine. She has been going through a lot the last 2 months and I thought creating this canvas as a little gift may give her a bit of a pick me up. I attached the saying to the canvas with foam dots and sprayed a little of the mists so the saying didn't look so bright on it. I added the vanilla shimmer which helped mix some of the colors as well as adding the shimmer.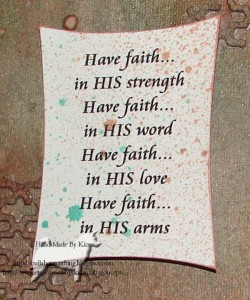 Saying
Final step after all is dry is spraying a finishing spray over the canvas in its entirety. Using the spray not only protects the creation but gives it some shine. Here is the finished piece: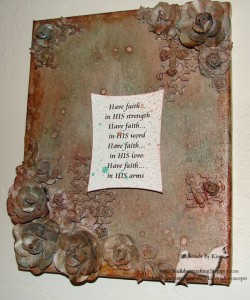 Finished Project 2
Life is short, do something creative every day!
~*~*~*~*~*~*~*~*~*~*~*~*~*~*~*~*~*~*~*~*~*~*~*~*~
Kim Kelley is borderline obsessive about her crafting and her art. She loves mixed media art because you are free to go beyond your comfort zone, using your imagination and exploring an anything goes mind set. Kim loves to learn and explore new techniques and hopes that any art she creates leads someone to find their inner creative artist!
Sites: itsallaboutcrafting.blogspot.com and www.facebook.com/kimscraftyconcepts
~*~*~*~*~*~*~*~*~*~*~*~*~*~*~*~*~*~*~*~*~*~*~*~*~
.

.