~*~
This article was written by Madeline Faiella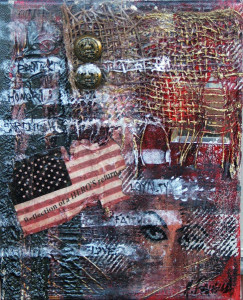 Mixed Media Art is a great way to tell a story with your art.  It can be a color theme that is beautifully put together or similar objects that tell their tale.  Mixed Media Art is a great venue for storytelling and I have a piece that I was inspired to do that tells a story.  It is called "A Hero's Return".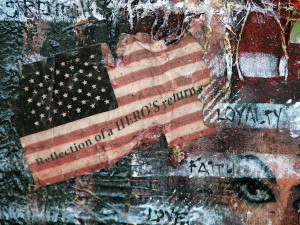 In this piece you a bit of mystery and strength in that the eyes are in the background and one can only imaging the many people who have lived and still live behind those eyes waiting and wondering about their loved ones.
There is layered texture and the color theme is strong.  The American Flag is paper that was put in water to age so it hassome life.  The soldier's buttonsare "stand-out" elements that gives some call to your attention.  The burlap placed over the mirror allows you to see yourself and it causes you to think.  It is the reflection of yourself in the work.  The burlap adds that element of roughness and also stands to keep that reflection of you less clear; again, causing your mind and "eyes" to move (think) and look around the piece.  Keep the viewer's attention. The color red is a great theme for a strong piece.
When creating your Mixed Media Art, ask yourself what is the story you want to tell.  It can be deep and intense or playful, fun and whimsical – or simply a work in colors.  No matter what story you are telling remember 3 things: 1) have a story to tell; 2) be sure your color theme is a good one; and 3) have fun while creating!!!
~*~*~*~*~*~*~*~*~*~*~*~*~*~*~*~*~*~*~*~*~*~*~*~*~
Author bio:Madeline Faiella is the owner of Madeline Faiella Designs, LLC.  She is a "tradigital" artist.  She works traditionally and digitally in Photoshop and Adobe Illustrator.  She is licensed and her work is featured on home décor, electronic devices, stationary, fabric and more.  Her arsenal of tools is large and broad and work is varied.  She is licensed, published, appeared on TV and radio and has written continuing columns for newsletters.  She also has a line of non-toxic acrylic paint "Art Jacket"   Her art education hails from The School of Visual Arts in Manhattan and the many years she absorbed global cultures during a 23 year singing career.  She's been drawing, sewing and making since she was a child. Madeline sometimes exhibits at local galleries and she sells directly to a group of collectors of her fine art and jewelry. See more her work at www.madelinefaiella.com
~*~*~*~*~*~*~*~*~*~*~*~*~*~*~*~*~*~*~*~*~*~*~*~*~
.

.