~ * ~
This article is written by Terri Sproul
Art journals are a place to let yourself free.  There are no wrong or right way to play in your journals, so just sit down and have fun.  Playing with lots of medium made your experience even more fun, so step out of your box and purchase something new.
Have fun with Details, Color and Texture to complete a fun experience and Art journal page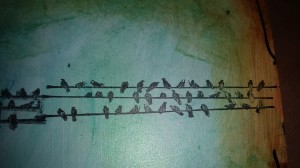 Product that were used in this Art Journal page are listed below.
Products used in this Art Journal page:
CottonWood Art Journal
Silk Acrylic Glaze from ColourArte:  Guatemalan Green and Autumn Leaf
Stamps:  SinCity Stamps, and Verses Rubber Stamps
Stencil:  Unknown
Golden:  Regular Gel Matte, Light Molding Paste
Gesso
India Ink
Faber-Castell – Pitt Pens Black
FineLine Applicator
Paint Brushes, Baby Wipes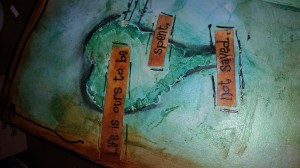 ~*~*~*~*~*~*~*~*~*~*~*~*~*~*~*~*~*~*~*~*~*~*~*~*~
Terri Sproul is a CHA designer and a Mixed Media Artist with her own line of stamps with SinCity Stamps and own paint line with Sakura Hobby Crafts.  She and her husband have the pleasure of living on Palomar Mountain in San Diego County in California.  She present host a live show about Art Journals on Tuesday night, find all that info at her Facebook group "All things Terri Sproul"
Find more of her video at youtube.com and her blog:  terrisproul.blogspot.com
~*~*~*~*~*~*~*~*~*~*~*~*~*~*~*~*~*~*~*~*~*~*~*~*~
.

.