~ * ~
Laura Thykeson shares her process for creating a layout in an altered book in this 25 minute video – sorry! Having a few issues with the video!
Laura brings us her techniques for adding borders, highlighting words and adding colour into a layout of an altered book. It's part of her "Alter me Silly" class starting on March 1, 2013 which will have video, pdf's and more class material. (You will need to join up with Ning to view the workshop.) There is something about watching the process of a mixed media artist creating her pages that just clicks with us!
To create a similar altered book, you need a sturdy book or old diary or calendar. For the best results, make sure you begin with a stitched book. For more details on choosing a book, and how you can check for stitched sections, you can read more on Altered Books for Mixed Media Art.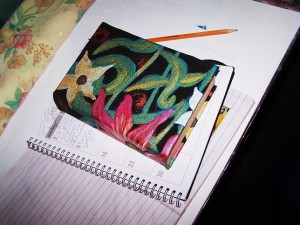 The other materials and tools you will need to create an altered book layout include permanent markers, Sharpie pens and Gouache Paint. Once you have these as a starting off point, the wide world of altered books and art journals will open up to you. You can then combine a range of techniques and mediums to personalise your pages and let your creativity flow!
~*~*~*~*~*~*~*~*~*~*~*~*~*~*~*~*~*~*~*~*~*~*~*~*~
Laura Thykeson has been totally immersed in mixed media art for many years. If it will "take paint", she has probably painted on it!
Laura discovered altered books and art journals about a year ago and have been hooked ever since! She has always loved mixed media art because of the variety and the "no rules" aspect! Starting out a fine art oil artist, she soon transitioned into her own line of wearable art, purses and jewelry, along with decorative items for the home.
Laura lives in Granbury, Texas USA.
You can see more of Laura's work at Mixed Media Uniques
~*~*~*~*~*~*~*~*~*~*~*~*~*~*~*~*~*~*~*~*~*~*~*~*~
.

.