The Serendipity Technique is easily mastered and is lots of fun. The only problem I have is deciding how small a piece is too small to throw out, because this techniques will use all of your small and left over pieces. How your initial collage goes together is not an important part of this technique; it is the cutting and then rearranging of each square that adds the charm to each piece.
1. Collect together a background sheet (this one is pre-painted in red, left over from doing the credit card technique) and similar colour scraps.
2. Tear them into interesting shapes and glue onto the background. I used a glue stick.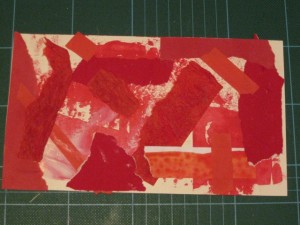 3. Stamp shapes onto the collage background


4. Cut collage into strips. To make this simple, use the ruler width or lines on the cutting mat to cut them, rather than measuring the strips too accurately. Take care if using a paper cutter if your collage is thick in places, as it may damage your cutter.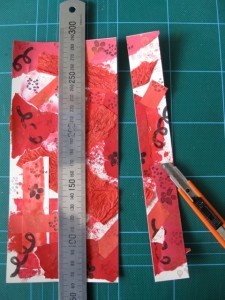 5. Cut strips into squares, again using the ruler width or lines onto cutting mat to cut them at the same spacing. You will have lots of colourful squares.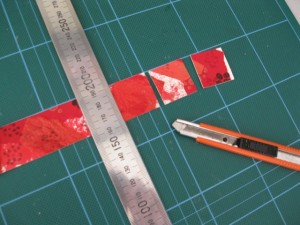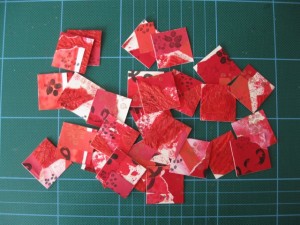 6. Now you can turn all of these squares into cards or add them onto other forms of mixed media art. Some of these were edged with black ink or layered onto darker card to highlight the squares.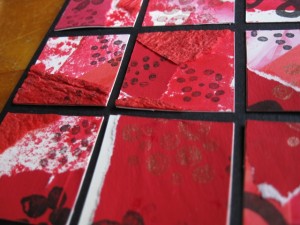 Like any of these techniques, have a play round with them – cut bigger squares or smaller squares, use your kids artwork or turn a background you don't like into an entirely new piece of art.
Happy creating!
~*~*~*~*~*~*~*~*~*~*~*~*~*~*~*~*~*~*~*~*~*~*~*
.

.