~ * ~
This article is written by Kim Kelley
The holidays are over, the decorations are put away, time to get crafty and I don't know about you, but it's not a moment too soon for me.
This month I decided to make a memory tray that I purchased from Hobby Lobby. I have several and have always been a bit nervous to try one. So I chose the one in the shape of the cross, threw the nerves out the window and got to work.
Here is a list of what I used:
~ Cross Memory Tray by Paper Studio
~ White gesso by
~ Texture medium by Imagine Crafts: Original, Vintage and Shimmer
~ Spray mist by Lindy's Ethereal Emerald and Maidenhair Fern Green
~ Miscellaneous charms, flowers and clothes pins from stash
~ Glue gun
~ Mod Podge
Most trays are basic black, but by using gesso and adding paint or texture and sprays; you can change the color real easy, all depending on what look you want to create.  Wanting a real light coating of gesso I added a bit of water, to thin it out, and brushed it on leaving areas where the black showed through.
Cross Tray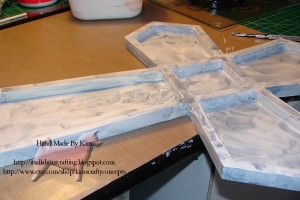 Cross Tray with Gesso
After letting it dry, with a little bit of help from my heat gun, I started to add my texture mediums. Here's where it gets weird…I knew what I did not want it to turn out like: not clear, not one color, no flakes, grit or fibers. So I grabbed my "Creative Medium" in Vintage, Shimmer and Clear and started sponging it on, making sure to keep them somewhat separated so each shows through.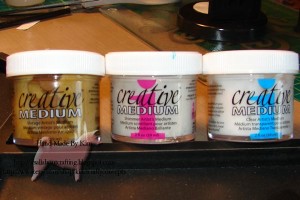 Texture Medium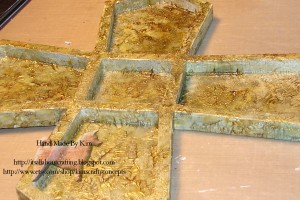 Tray with Texture Medium
After letting the texture dry for about 2 hours I chose my sprays. This is probably one of the hardest parts of creating something, not knowing what the color will end up looking like. In my mind I had a soft patina color, but achieving that is half the battle. Looking through my spray bottles I decided to try Ethereal Emerald for the green hue and Maidenhair Fern Green to add that bit of brownish tone, hoping it will go well with the vintage color of the creative medium.  (Sorry the pictures did not turn out that great of the sprays before I added the embellishments.)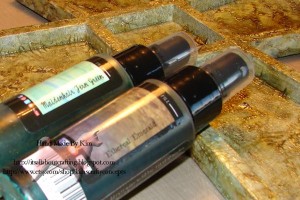 Sprays
OK I said the hardest part of the creation process was choosing color…well I lied. The hardest part is the waiting, waiting for stuff to dry seems to take forever.  I usually end up having at least one other project going at the same time, sometimes more than one.
The next step was to determine what scripture I wanted…I chose to use I Corinthians13:13 "and now abide faith, hope, love these three; but the greatest of these is love", deciding this would be a perfect choice to use some charms I had of "Faith", "Hope" and "Love". Wanting them to hang rather than lie flat I found some small, chunky clothes pins that would hold the charms perfectly. I did add some texture medium to the pins to make them blend in more. After adding all the embellishments I added more spray, covering the texture on the clothes pins.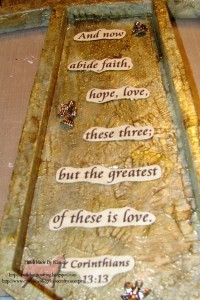 Scripture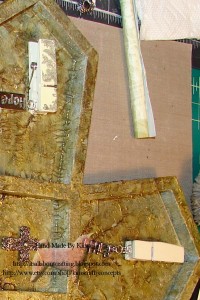 Clothes Pins
Textured Clothes Pins
After texturing, gluing, and spraying I added some Mod Podge to seal it all up. I like using Mod Podge because I can go over any item with it; charms, texture, paper, whatever is on the project and it dries clear and FAST! Less waiting time for me.
Without further ado, here is the finished project: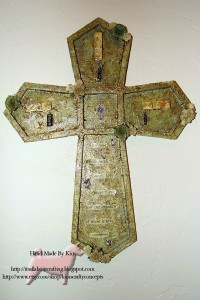 Finished Cross
(Again sorry for the photo, everyone I took came out with the scripture not as distinct)
Life is short, do something creative every day!
~*~*~*~*~*~*~*~*~*~*~*~*~*~*~*~*~*~*~*~*~*~*~*~*~
Kim Kelley is borderline obsessive about her crafting and her art. She loves mixed media art because you are free to go beyond your comfort zone, using your imagination and exploring an anything goes mind set. Kim loves to learn and explore new techniques and hopes that any art she creates leads someone to find their inner creative artist!
Sites: itsallaboutcrafting.blogspot.com and kimscraftyconcepts
~*~*~*~*~*~*~*~*~*~*~*~*~*~*~*~*~*~*~*~*~*~*~*~*~
.

.