~ * ~
This article is written by Debbie Davis
One of my favorite things to do is paint and collage onto mixed media paper.  When using paper, I let go of any apprehensions about messing up a nice canvas or other expensive substrate.  This allows me to work freely and just have fun.  Once a paper collage painting is complete, depending on the size of the paper,  it can be cut to make smaller pieces of art or you can use the entire piece.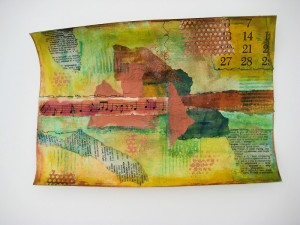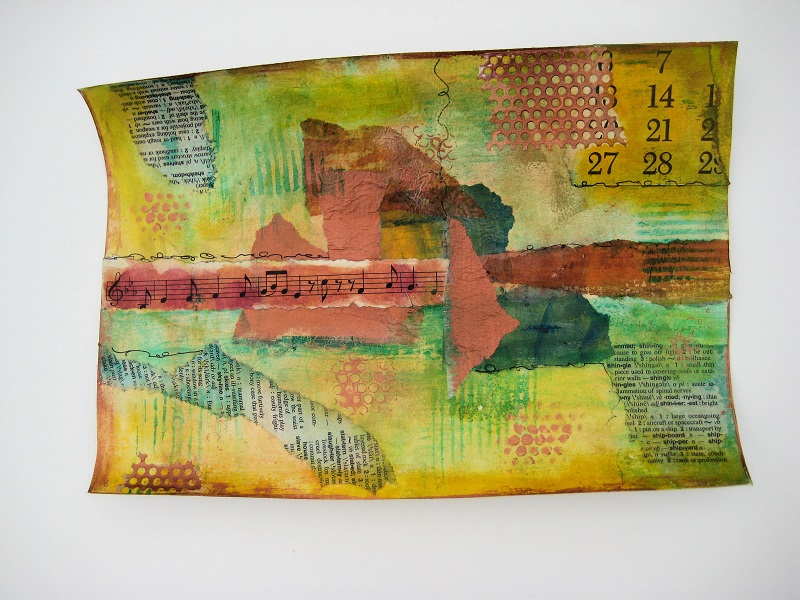 I usually start by collaging various papers onto the mixed media paper.
For the collage painting above, I used pieces from a vintage ephemera music book, dictionary and calendar page.  I also added some deli paper that I had painted and crumpled to give it some texture along with some painted drywall tape.  Once the papers were collaged on the mixed media paper, I added some paint and did a bit of stamping with a piece of cardboard that I had brushed some paint onto and pressed onto the paper.  I also used a piece of the drywall tape as a stencil and pounced some paint through it.  Line work was added using a Pitt artist pen.
I sometimes mount the paintings onto wood panels that I purchase from my favorite art supply store.  Another option is to buy clearance craft art from your local hobby/home decor store, that is done on wood pieces or panels to repurpose and use as your substrate.  I am always on the lookout and buy a lot of my substrates at 80% off.  I recently paid $2.00 for some panel boxes that had words printed on them.  They were just the size I needed for a few of my paper collage paintings.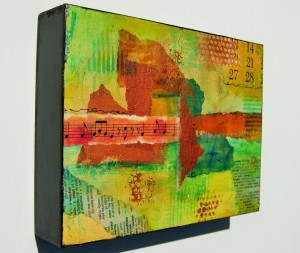 Cut your paper close to the size of the substrate.  Extra paper can be trimmed off after the glue dries.  To adhere your art onto the substrate, use PVA glue by adding it to the center of the substrate and brushing it out towards the edges.  You need to make sure and cover the entire top of the panel with the glue.  You don't want the glue to be too thin that the paper won't stick in some areas. You also don't want to put so much down that it is oozing out the sides once you get the paper down.
Next lay your art onto the panel smoothing out any air bubbles.  I like to cover it with wax paper and roll out the bubbles and smooth down the paper using a brayer.  Next, leaving the wax paper on the painting,  put some heavy books on top and leave to dry overnight.  Once dry, paint the sides of the substrate and finish it off with a spray sealer or varnish.
Here is another painting I completed recently and mounted on to a wood panel.  I used some scrapbook paper on this one along with stencils.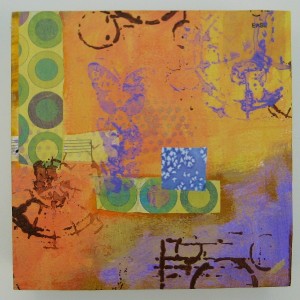 ~*~*~*~*~*~*~*~*~*~*~*~*~*~*~*~*~*~*~*~*~*~*~*~*~
My name is Debbie and I live in Morton, Illinois, USA. I'm happily married and have a wonderful family that includes a daughter, son, son-in-law and 3 of the sweetest grandchildren ever!
What I love most about mixed media art is that you don't have to be an expert at anything to create beautiful art. It is a great way to recycle found objects. Art is such a wonderful stress reliever. I just wish I had more time to play!
I have a blog called In Art Therapy where I share my art along with techniques I have learned.  I hope you will come visit me there.  I also have an Etsy shop called Artful Explorations where I place some of the art I have created for sale.
~*~*~*~*~*~*~*~*~*~*~*~*~*~*~*~*~*~*~*~*~*~*~*~*~