~ * ~
This article is written by Melanie Statnick
Recently I have noticed the trend in creating our own style of journals, mini books, according books and more. Pinterest is full of inspired artists in the present and in the past each with their own style. Some tell a story and others like the accordion book, are one long piece of art. This can be done in a horizontal or vertical fashion. It is up to your imagination. I had more fun with this book then I thought and it became somewhat addictive. Here is how to make yours, in a fast and simple way in case you're making art at the speed of life.  You can always add more and take as much time as you need.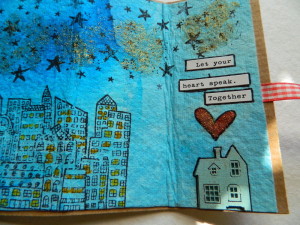 Supply list:
Watercolor paper 140lbs cold press
Cardboard (craft) or heavy card stock
Watercolors
Gel Medium
Stamps and/or other word stickers
Ribbon
Instructions
Begin with measuring your watercolor paper approx. 11"x4".  You can go as big or as little as you want. Measure your cardboard the same to a bit larger 12 x 5".  Paint your watercolor paper any way you wish.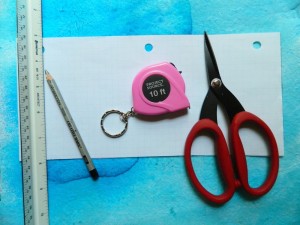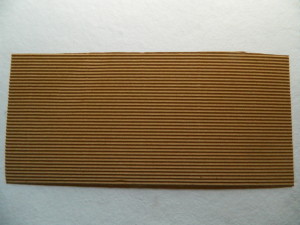 Apply gel medium (glue) to the cardboard piece you've cut. This is the cover of your book. Lay your ribbon down onto the glued cardboard, then lay your painted watercolor paper on top of your ribbon. You may want to use a brayer to make sure all your corners are flat and everything is glued well.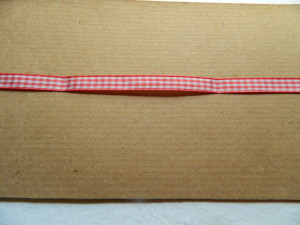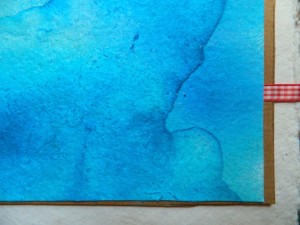 Begin to fold paper into itself in an accordion fashion.
Here is where it becomes fun! You can stamp or draw anything you want to create one long piece of art. I used one of my favorite stamps, my city stamp and my star stamp. I found a heart stamp, some word art and a mini wood house. I painted the house, added some sparkle to my night sky and hand drew the moon using acrylic paint and Micron pens.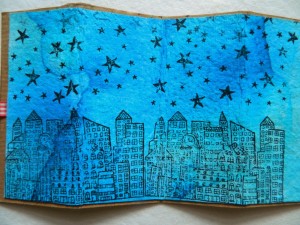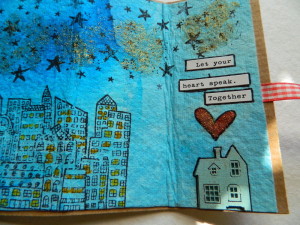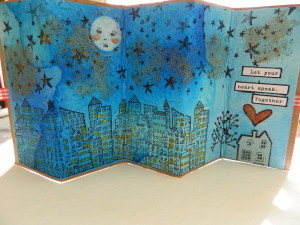 When you are happy with your end result use the ribbon to wrap around your book if you have cut it longer. Tie it up in a bow and use it for a gift or make a shelf full.
Happy Creating.
~*~*~*~*~*~*~*~*~*~*~*~*~*~*~*~*~*~*~*~*~*~*~*~*~
Melanie Statnick is a Canadian Mixed Media & Collage Artist out of North Carolina. Melanie creates art daily from her private studio. Her style is fun, whimsy and eclectic. Melanie is also an Art Instructor for local venues and community colleges for students of all ages.
~*~*~*~*~*~*~*~*~*~*~*~*~*~*~*~*~*~*~*~*~*~*~*~*~
.

.