~ * ~
This article is written by Ann Strecko Koeman
In response to my previous article about collecting versus hoarding, a reader posted a very good question in the comments section.  That today is the subject of my article as I pondered this inquiry and deemed it to be a good topic to explore.
A reader asked about how one goes about making mixed media art without over extending our financial capabilities and wasting our hard earned money on purchasing all of the  fancy tools available in the arts and crafting market right now?  Besides having a great amount of self control, it is difficult to not just cave in and buy all that is shiny and new!  However, as I have been crafting most of my life I can say that it is doable. One needs to begin creating humbly.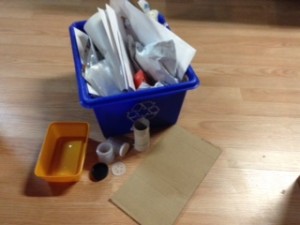 To be creative it is not necessary to buy and own all of the newest and greatest that is advertised.  The most important tool is ourselves.  We need to believe in  our own abilities and then just give it a try.  Picasso said. "creativity has to find you working", not that you must have a well designed and furnished top notch studio!  Nonetheless, it would be hypocritical of me not to admit to personally owning a well stocked and probably over flowing creative space of my own.
I did not get to the point I am at over night.  I have accumulated my inventory very slowly and creatively.  I admit to easily falling in love all too frequently with the latest and greatest of supplies available online or in a brick and mortar store.  I can stay away from the actual buildings, I can avoid going shopping online too!  If I live like a hermit and completely off the grid then I am not tempted at all!  But come on!  Who can pull that off?  NOT me!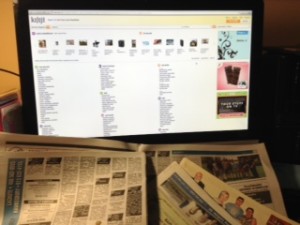 In my own experience I have dealt with having zero funds to spending on my creativity to going into debt.  Over the years my own priorities were tested and I have matured.  Being a mother has definitely made me make some wiser choices.  My priority is my family and my need to be creative and my answering that need made me a better mom.  So how to pull this off?  For one thing establishing some form of creativity budget is key.
By setting aside small amounts of money over the year and waiting for a few fantastic sales and using coupons enabled me to buy some things.  Asking for specific supplies or gift cards from my favourite stores as gifts for my birthday or holidays is another.  There is also the sharing of tools with other people that helps.  Joining a club where we exchange ideas, learn from each other, trade materials and contribute to a group pot whereby each member has a turn to spend the money on tools or supplies.
Over the years I learned about the possibility of renting time and space in some stores such as scrapbook stores where I could work on my scrapbooks and have access to a bunch of tools and equipment that I could not afford to buy on my own.  Joining the frequent buyers clubs at stores and getting loyalty cards (free ones) also contributes, although slowly, to obtaining free stuff.  Working in a crafty environment also enables one to access things usually at a discount.  If one works in an office don't overlook all those papers and unused supplies going into the bins, ask first and it should not be a problem.
I joined some design teams which provided me with free materials.  I have also written product reviews for companies that let me keep some products for free.  My teaching means that I get bits and pieces and sometimes whole pieces or even tools for free.  I also worked as a consultant for a few direct sales craft companies which enabled me to earn free products.  I have done volunteer work where I was in charge of a creative project which meant that after the event had passed I could take home any unwanted and used supplies.
Which brings me to looking for FREE stuff!  First and foremost let people know that you are creative and that you will take their unwanted trash (within reason) for your own treasures.  For example your friend has an aunt that is downsizing and would like some help cleaning out the house, and in exchange you get to keep the old but still usable pasta machine that you can use to knead clay!  Or the deceased husband of that same aunt had a set of wood carving knives in the garage, you can use those too.  Oh, and what about that fabric the aunt had bought years ago to make a dress to go to some nephews wedding that never happened!  You could use it to make some handbags!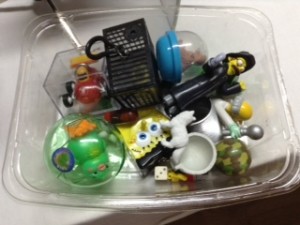 Keep your eyes and ears open, there are people all around who need to unload items and you can use them.  Getting stuff for free means it will cost you some time though.  Another place to find free materials is in your own home; from the recycling bin where you can use good cardboard (chipboard) or clean empty plastic containers, to your closet where those outdated clothes have some nifty buttons that can be used in a necklace, and don't forget to look in your children's rooms for broken toys to use in a collage, or the garage (if you have one) for tools and supplies that can make great substitutes for the more expensive craft store tools that will do the same job. 
If your own home is very modest, there are no children's toys, and no garage to pillage you can always look to online recycling and selling sites.  Don't forget to check any local free newspapers, the bulletin boards too.  I have found things for crafting on sites such as Kijiji and Free Cycle all for free or as a trade for something I had and did not need anymore.  I see advertisements in local papers for free stuff too.  There are also local businesses who gladly will give away what is useless to them but a luscious supply to a crafter.  For example, stores often have tons of cardboard boxes and signage that needs to get out.
Sometimes my local hardware store would happily give away old wooden pallets and outdated paint samples.  Hello, that is free wood and paint!  The library may need to cull old magazines even books and shelving which equals more free stuff.  There are many alternatives to spending money on tools and supplies, but this would require a series of articles or even a book.  Sometimes it is not possible to replicate a certain tool and one needs to bite the bullet and shell out the big bucks or go without.  But often it is in those situations that we artists show our greatest creative ability:  Making do!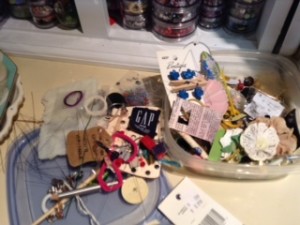 ~*~*~*~*~*~*~*~*~*~*~*~*~*~*~*~*~*~*~*~*~*~*~*~*~
Ann is a mixed media artist working and living outside of Ottawa Canada with her beloved family and cat that use up most of the family budget on food.  Ann has had to find many unusual ways to stretch her crafting budget.
~*~*~*~*~*~*~*~*~*~*~*~*~*~*~*~*~*~*~*~*~*~*~*~*~
.

'