~ * ~
This article was written by Cecilia Sanchez
I have made a friendly and funny photo frame, thinking of putting pictures of my naughty children.  It's pretty simple. They like to play with bottle caps, and so I wanted to include them in the frame.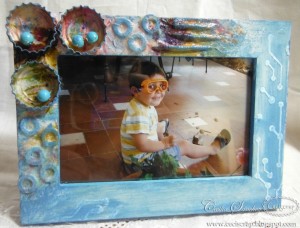 List of materials:
A wooden frame 
Bottle caps 
marbles 
metal washers 
glue 
stencil (Stencil girl products)
 gesso 
acrylic paint 
paper towels 
mod podge 
crakle paint 
Zig Painty FX
First, glue the metal elements or whatever we want. 
Then, cover with a coat of gesso.
I used a stencil of electronic circuits with gesso to give more texture.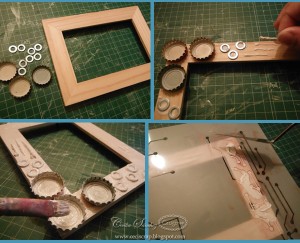 I like to use the paper towels used, and stained with paint.
I have fixed with Mod Podge.
A layer of acrylic paint.
I remove some paint with a baby wipe.
Finally, a layer of Distress Crackle paint, gives an interesting effect.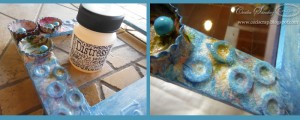 ~*~*~*~*~*~*~*~*~*~*~*~*~*~*~*~*~*~*~*~*~*~*~*~*~
My name is Cecilia Sanchez (CeciScrap) and I live in Málaga, Spain. I am married and we have three gorgeous sons. They inspire me every day with their crazy ideas.
Since my childhood I liked the photography, drawing, collage and make photo albums with cuts and travel souvenirs. I also love crafts in general. In 2006, a few months after birth my twins, I discovered scrapbooking, digital first and then the traditional. I love to do 30X30 pages, cards and mini albums, and for a while now I am fascinated with the Art Journal and Mixed Media, and I do not imagine scrapbooking without getting my hands dirty.
I am inspired by everyday things, feelings … The art journal is a real diary for me, because sometimes I need to express feelings with colors and shapes.

I love learning and discovering new techniques and materials.
I am part of the European design team of KURETAKE, and I am also designer for a monthly blog challenge Sweet Card Club. I contribute with some blogs and digital magazines and organized Scrapbooking workshops in Malaga.
You can see more of me at: http://ceciscrap.blogspot.com.es/ & http://www.facebook.com/ceciscrap
~*~*~*~*~*~*~*~*~*~*~*~*~*~*~*~*~*~*~*~*~*~*~*~*~
.

.