~ * ~
This article is written by Michelle G. Brown
I love making handmade greeting cards from my family and friends – but I always worry that the hard work that has gone into making them won't be appreciated and they will be discarded along with the store bought cards. I wanted to make a greeting card that would keep on giving, well after the birthday or event has passed – that's when I decided to make a tag bookmark and integrate that into a card; that ticks both boxes – a handmade greeting card AND a gift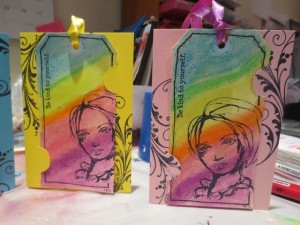 Materials:
Faber-Castell Gelatos
Manilla shipping tags (here we used Size 7)
Rubber stamps (for the tags we used Ranger Ink Dina Wakely Media – Face in the Crowd MDR41313)
Black markers and pens
Cardstock in colours to match the gelatos
Craft knife and cutting mat
Ribbon in colours to match
Making your Greeting Card Tags:
1. Gather materials and decide on colors. Here I was making Mothers' Day cards, so I was after bright colours (and I just LOVE rainbow colours!)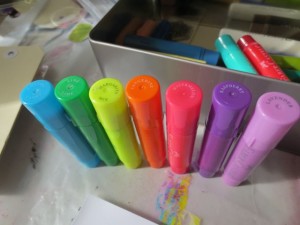 2. Create a colourful background with the Gelatos on the tags, activating them with a little water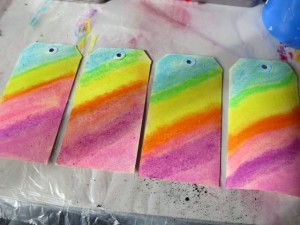 3. Add a stamped face and quote from the Dina Wakley set to your tag. Add a border with black marker. Add ribbon.
4. Add some stamped swirls to the card. Put the images around the edges as the tag will cover most of the card front.
5. Match the tags to the background card stock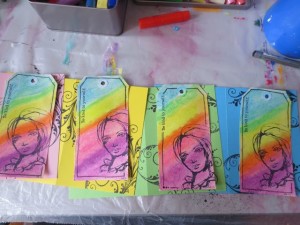 6. Now we need to create a way to attach the tag to the card. I didn't want to glue it permanently, so I cut slots into the card.
I put the tag onto the card and used a pencil to mark the top right side and the bottom left side of the tag, so I would know how wide the tag is. Then a drew half circles and cut them using the craft knife and cutting mat. Then I tested the tag and found the slits needed to extend past the edge of the tag. Then I cut the slits a bit bigger.
7. The easier way to put he tags into the card was to "twist" it in
8. Your mixed media tag greeting card is finished! You can also write a note INSIDE the card to tell the recipient that the tag can be removed and used as a bookmark.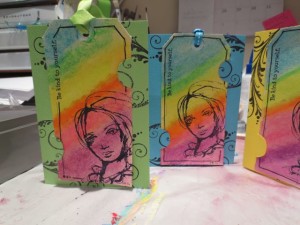 ~*~*~*~*~*~*~*~*~*~*~*~*~*~*~*~*~*~*~*~*~*~*~*~*~
Michelle G. Brown is passionate about mixed media art and enjoys sharing her knowledge and techniques with you to allow you to express your own creativity. Michelle understands that many of us have an inner need to create. By learning a few basic techniques the amazing world of mixed media art is accessible to everyone!
Michelle lives with her husband and two boys in Melbourne, Australia. When she is not creating or on Facebook, she's at karate training.
~*~*~*~*~*~*~*~*~*~*~*~*~*~*~*~*~*~*~*~*~*~*~*~*~
.

.