~ * ~
This article is written by Sandra Parés
Today I am going to show you how to make a candle holder with a magic light to illuminate our summer nights.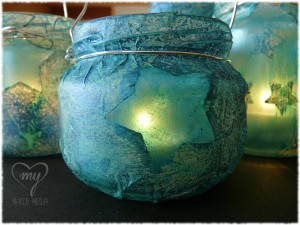 The supplies I will use are the following:
An open top container glass (to make these candle holders usually I use recycled glass jars)
white tissue paper
the big shot and a star die
8"x10" Gelli Plate
a brayer
black acrylic paint
a stencil
extra heavy gel medium (gloss)
2 paintbrushes
Facetten-Lack metallic platin Vica Deco
a makeup brush
Primary Elements of LuminArte
hairspray
wire and a candle
First of all we will start using the Gelli Plate: we will use the brayer to put the black paint over the stencil, then we will press the stencil over the gelli plate. With this step we can print the mark of the stencil over the gelli plate. Then we will take a piece of tissue paper, it must be large enough to surround our glass jar. And we put the tissue paper over the gelli plate to print the texture. With this step, the mark of the stencil will print in our tissue paper.
And with the Big Shot and the star die we will open a few holes in our piece of tissue paper.
Then we will paste with extra heavy gel medium the tissue paper around our glass jar and we will leave it to dry. Then we will paint the holes with Facetten-Lack to give a touch translucent at the glass. For this step, also you can use any paint or paste that allows you to do this translucent effect.
Once dried we can add the color. I will paint with the Primary Elements of LuminArte, I will use the pigment directly. First of all we have to spray the entire glass jar with hairspray, you will see how the jar is wet. Taking advantage of this dampness, we will catch the Primary Elements pigments (the color or colors that you want) with a makeup brush and we will paint with them making circles. When we run out of pigment or hairspray dries, we will go back to add more product to get the whole jar painted.
Finally, if we want to hang it somewhere, we only need to put some wire around the jar. And don't forget to put the candle inside!
You will see that the result will be beautiful and shining: a candle holder with a magic light for our most special nights. The first time I used these candle holders was at my craft stop in the "Enchanted Night", the shopping night from my city, and they produced an amazing shine!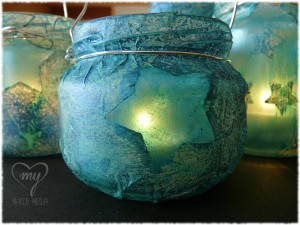 ~*~*~*~*~*~*~*~*~*~*~*~*~*~*~*~*~*~*~*~*~*~*~*~*~
Sandra Parés loves working with mixed media! The colors and textures leave her amazed and she enjoys creating and getting their hands dirty with paint and gesso! On her site My mixed media you can find a mixed media online store, art and craft products, mixed media workshops in Spanish, tutorials, ideas and mixed media techniques.
~*~*~*~*~*~*~*~*~*~*~*~*~*~*~*~*~*~*~*~*~*~*~*~*~
.

.