This mixed media technique for creating a resistance image with white crayon is a simple method to make backgrounds, that is super-quick to complete and ideal for making many sheets for a large project.
1. Gather materials; used on old conference paper text sheet (as available in the Ephemera kits), white crayon, brayer (like this Ranger Inky Roller Brayer, Medium 3-5/16-Inch
) and Tim Holtz Distress Ink Pads
in pine needles.
2. Use the white crayon to draw a pattern on the text sheet. I created swirls and squiggles. While it is hard to see where you have been, the light will just catch the crayon, so you get an indication of where you have already drawn. As I was going for a grunge look, I wasn't too concerned.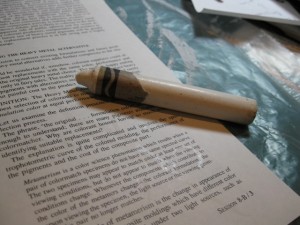 3. Load the brayer up with ink and apply across text page, at varying angles. The white crayon will begin to appear. I tried the direct-to-paper method with the ink pad but it was too hard to get a thick enough layer for the crayon to show through. Also my brayer is small, so each ink application doesn't go very far and a motley affect results. As I'm going for a grunge look, I wasn't concerned. A bigger brayer will give a more even finish.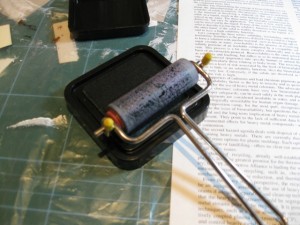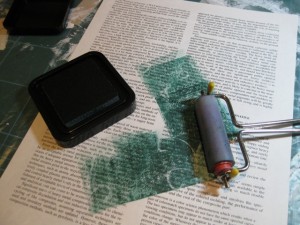 4. Continue to reload the ink onto the brayer and apply to the text sheet until it is completely covered to your satisfaction.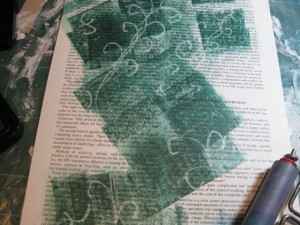 Now I have a background sheet ready to use in making my Christmas cards for this year. As I make about 50 cards each year, I need a design that will be easy to make many sheets and this background method suits that perfectly!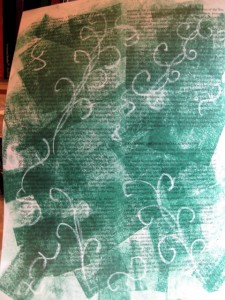 Happy creating!
(Hope that was quick enough for you!)