~ * ~
This article was written by Melanie Statnick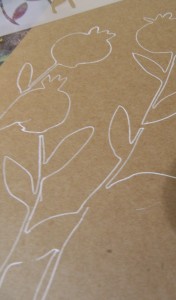 When I first saw photos on blogs from artists using Kraft paper for artwork and journaling pages I had to play with more of it myself. There are 1000 of great project you can use Kraft paper for. It's very "Crafty". From paper flowers, banners, cards, to table clothes and runners. The list goes on.
A mini project I created to later place on a canvas, was taking one my favorite stencils and outlining it using white gel pen or you can use a white chalk pencil. This can be a very bold first move if you are nervous about the permanence of the pen. I skipped using a pencil because I'm not worried about making a mistake here. I will be adding acrylic paint directly to the paper and I felt that the paint brush line would "cover" my mistakes. (Never be afraid to make mistakes, it is how we All learn)
This stencil has two pieces to it. The outer edge of the poppy pod that creates the general shape and the inner piece of the pod that adds the detail. It's so versatile. You can use one or the other or both. I layered this piece again with the inner stencil part using a Pitt Pen in bold black. I painted this with acrylic paint and added the words that also come with this stencil.  I used layers with mostly a dry brush because I found that too much wetting of the paper can cause buckling. So I used clear gesso as a sealer/primer on pieces after this one.
I used the puffy gel pens over this in small dots and circles and sharpened the edges with the Pitt marker.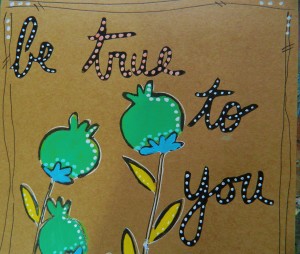 I found this to be a delightful and easy little project. So many of us have busy days filled with work ,family and unexpected issues, that we don't often have time to create large master piece s. This is just one of many things you can create as a journal page or as one piece.
~*~*~*~*~*~*~*~*~*~*~*~*~*~*~*~*~*~*~*~*~*~*~*~*~
Author bio: Artist Melanie Statnick is a Published Artist/Writer out of North Carolina who writes and creates art daily from her private studio. Melanie is also the host of her own program via video and local PBS named The Brush & Pen  a NCC production. Statnick's artwork can be found in art galleries extensively in NC with international private collections. www.melaniestatnickart.com
~*~*~*~*~*~*~*~*~*~*~*~*~*~*~*~*~*~*~*~*~*~*~*~*~
.

.