~ * ~
This article is written by Tamara Dinius
A rainbow lives in our mixed media art supplies and we will be better artists if we learn how to use the colors effectively. Even though there are few guidelines for the mixed media genre of artistic expression , we will have greater success with our art if we become acquainted with our materials.  Over the years I have taken numerous classes in watercolor, acrylics, and oil painting. In each of these classes I have been encouraged to create color wheels and charts to understand how variances in brands of paint can give different results.   I have also found the same to be true with many of the mediums used in my Mixed Media artwork.
The below photos illustrate the opacity and intensity of the following brands and products.
1) Derwent Inktense Block
2) Derwent Inktense Pencil
3) Derwent Watercolor Pencil
4) Caran d'Ache Neocolor II Aquarelle Artists' Crayons
5) Liquitex Ink
6) Dylusion Ink Sprays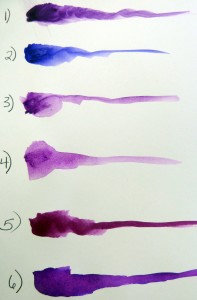 First wash of water. The vibrancy of the Derwent Inktense Block is the most intense while the Caran d'Ache does not retain as much of its vibrancy.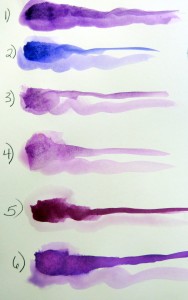 Second wash of water. Again the Derwent Inktense Block retains the greatest intensity. The information received from this will help to determine what product will give the result we are looking for.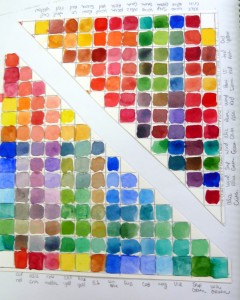 (your preferred palette of colors)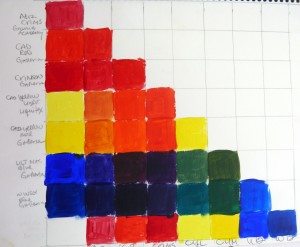 (Primary colors)
Creating a swatch chart using preferred colors and brands of paint can also assist the mixed media artist. It is far easier to view your swatch chart when looking for a particular green than it is to mix and remix your paint.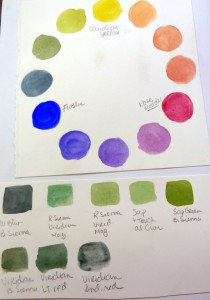 This color wheel has been created using primary colors of designated paint brands.
A floral painting and the associated color wheel.
 (Plain Mixed Media Paper)
 (Mixed Media Paper with Gesso)
I recently completed a chart of Dylusion Sprays on plain mixed media paper and another one that was coated with gesso. It was surprising to see the difference in intensity on the two separate pages.  It is quite noticeable with the Lemon Zest and Chopped Pesto.
I encourage mixed media artists to create color wheels and charts of their products. Not only will this assist you when creating your art, but if you take it with you on your shopping trip it may also eliminate duplicate purchases.
~*~*~*~*~*~*~*~*~*~*~*~*~*~*~*~*~*~*~*~*~*~*~*~*~
Tamara Dinius lives in the Pacific Northwest with her husband and chocolate lab. She has two grown daughters who make her life meaningful. They support her, ground her, embrace her, and are amazing people in their own right.
Her love for mixed media has taken over most aspects of her creative journey. She believes mixed media allows for a broad range of styles and anyone can find success in this form of artistic expression.
You can find more of Tamara's work, and on her website www.countrycraftersusa.com or via her Facebook
~*~*~*~*~*~*~*~*~*~*~*~*~*~*~*~*~*~*~*~*~*~*~*~*~
.

.