~ * ~
This article is written by Anjuli Johnson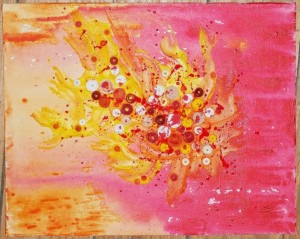 Having the courage to break into a new form of art can be tough.  I remember my scrapbooking days and being fascinated with other forms of mixed media I would see around me.  My scra'pbook pages were one thing- the altered books and art journals I would see in magazines were on a whole other level.  There are so many talented people who do amazing things with canvas, books, paint, beads, paper, and an infinite number of other mediums.
I was inspired every time I turned around, it seemed.  But the idea of actually trying to do something that didn't involve preserving my own memories was extremely intimidating. How could I, just an ordinary woman, find a way to create such unique mixed media pieces?  I wanted to learn these awesome techniques, but I didn't want to just copy what everyone else created. The only thing I had that made my creative work unique were the photos I used in my scrapbooking.  So, I kept my mixed media dreams in the back of my mind and stuck with what I was comfortable with.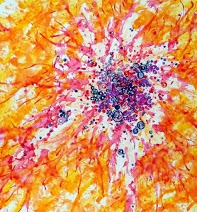 Of course, then came 3 years of limbo.  I moved across the country and couldn't afford to bring any of my things with me besides the bare necessities, and it was that long before I was able to access any of my art supplies.  To say I felt the absence of a creative outlet would be an understatement.  By the time I opened those boxes and started organizing everything, I was starving for my long lost supplies, most of which I'd forgotten I had.  There are few things better than unpacking boxes of art supplies.
The creative ideas are like a flood.  It was during this period that I finally found the courage I needed to start experimenting in unknown artistic waters, and as a result was able to develop my signature abstract collection that has been featured in several galleries around Raleigh and has led to some of my first commissioned works.  I've have further in the last two years than I could have dreamed possible.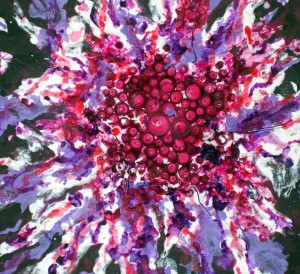 Throughout those months I realized the work I was doing was something I hadn't seen anyone else do. My pieces were unique, not just because of my individual style, but because I was using tools and supplies in ways I hadn't seen anyone else use. It wasn't until that moment that I realized the infinite possibilities that are available to those who work in mixed media.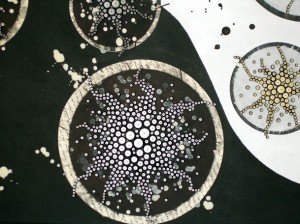 Most artists who work with quilling strips have a very different way of using them.  Some of the things they create are amazingly intricate, but are less abstract in nature- less accidental than my pieces.  It's been interesting to see how my quilling is similar and yet different from most quillers out there, but that is an aspect of mixed media work that I love- the fact that artists can take different techniques and mediums and use them in brand new ways that people haven't thought of before.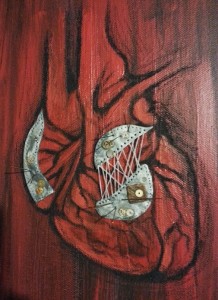 I don't know to what extent other artists have struggled with the false idea that anything they create will be derivative; simply a copy of another artists work.  In some ways, it almost felt like an excuse for me to not even try, despite being a legitimate fear.  I do know that all artists wrestle with fear in one form or another.  It is a daily struggle, but the more we create, the more we learn and the less fear becomes an obstacle.  What art supplies do you use in a unique way?  What pieces or collections have helped you overcome your fears?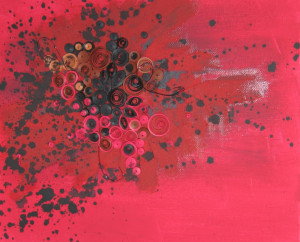 ~*~*~*~*~*~*~*~*~*~*~*~*~*~*~*~*~*~*~*~*~*~*~*~*~
Author bio: Anjuli Johnson is a Mixed Media Artist from Raleigh, NC.  She began her art career as a scrapbooker, and it's been an evolutionary process ever since.  She loves all things mixed media- paper, paint, pens, wire, gears, clay… the list goes on and on.  She is constantly trying to push through her fears to discover and develop her talents, meet new people, and learn from those around her.  To see more of Anjuli's art and techniques, check out her website at www.thefarpavilion.com, her blog at www.thefarpavilion.blogspot.com, and like her Facebook page TheFarPavilion
~*~*~*~*~*~*~*~*~*~*~*~*~*~*~*~*~*~*~*~*~*~*~*~*~
.

.