~ * ~
Before we head into the New Year, I like to use this time to reflect on the events and achievements of the past 12 months. The week between Christmas day and the New Year always seems like a no-mans-land time, where one event is finished and the next, yet to begin. So it becomes a time of reflection and planning. There are many creative ways we can celebrate and reflect and measure how we've grown.
We can look back over our art journal pages or look over photos that we accumulate on our computers or devices (remember when we used to go and get them printed from the film?!)
My favourite way is to create a word cloud, like a mind map of all of the events, activities, highlights and even the low-lights we have enjoyed as a family over the last 12 months. We have done this with input from everyone, as well as looking through photos and referring back to my a-day-a-square diary. I love hearing about our year from my two boys as they always remember different things to the ones at the forefront of my mind.
I do these reflection mind maps in my general sketch book and use my favourite pens or markers – here I've used my Staedtler triplus fineliner markers. I record the school grades of the boys and their sporting achievements. The different jobs my husband or I have had. Movies or television shows or books I have read will often feature. Family vacations and day trips. Sometimes it gets added to over a few days – a memory will crop up in the middle of the night. I will also add a note at the bottom of where I was as I created the mind map
It's lovely to have these pages to look back over – my first one was in 2009, using a simple blue pen and coloured pencils to add shapes.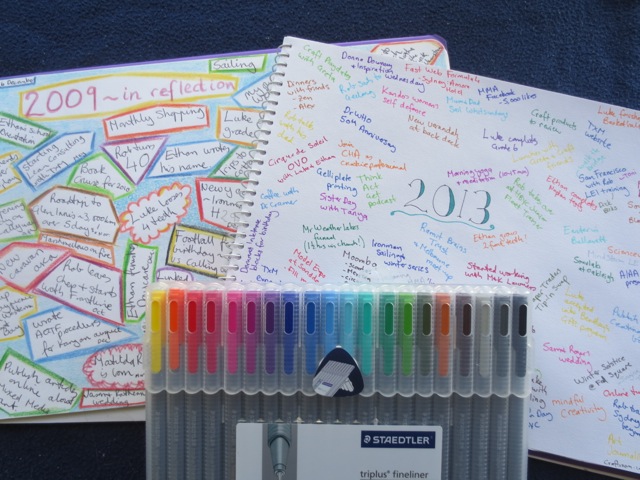 I hope I can encourage you to pause at this time of year and reflect and document the wonderful year you have had. Even if it hasn't been the "perfect year" (whatever that means!) use the time to note what did work – then you can work on getting more of that in your life! I like to think that energy flows to where we give our attention, so let's reflect and then focus on a creative 2014.
Happy creating,
Michelle

~ * ~