~ * ~
This article is written by Sandee Setliff
Looking for something different to use in your art? Then why not try substrates nature has provided for you.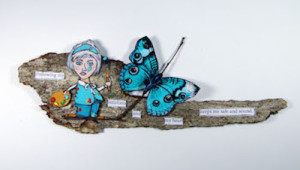 Substrate is just a fancy word for the underlying material on which you choose to work on, like paper, canvas, wood or in my case…a piece of bark that had fallen off a tree.
Sometimes my art starts with a walk in the woods, picking up bits and bobs from nature that inspire me. It can be a shape, or perhaps a texture that captures my imagination or just something I like to collect, like leaves and bark.
I brought home this odd shape piece of bark and it sat in my collection bin for awhile before I finally knew what to do with it, for you see, the pieces need to speak to me too. Originally I was going to do this piece on a large leaf but when I began to plunder around in my bin, the bark remnant stood out, like it was calling to me. I already had painted my (self portrait) caricature of an artist, cut out the butterfly and laid out a twig to use, all that remained was printing out a daily affirmation and arranging my elements on the bark to see if everything fit.
Tip:
Once I had arranged everything I began the gluing process. Gluing on an uneven surface can be a bit tricky and one of my go to glues is from Helmar called Liquid Scrap Dots because it conforms to the bumpiest, roughest surface you can imagine and creates a smooth base for even the thinnest of papers.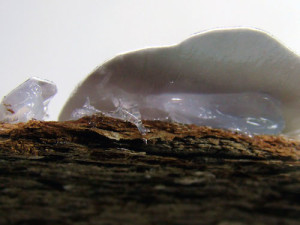 The last thing to keep in mind is that when using nature for your art also means that the art work will not be permanent but can decay over time unless you preserve it.
~*~*~*~*~*~*~*~*~*~*~*~*~*~*~*~*~*~*~*~*~*~*~*~*~
A little about Sandee Setliff:
Since childhood, I am happiest when I have paint and glue on my hands! Playing with new products and getting messy is time well spent in my book. I create a variety of mix media signs, cards, and altered art, and my creative style ranges from cute and fun to clean and simple which I sell in a local gallery called the Art MoB. My latest passion is art journaling, typography and making hand made paper.  When I am not crafting, I am photographing wildlife and hiking through our lovely North Carolina mountains.
inthehillsofnorthcarolina.blogspot.com
www.facebook.com/Sandees-Artful-Words
~*~*~*~*~*~*~*~*~*~*~*~*~*~*~*~*~*~*~*~*~*~*~*~*~
.

.