~ * ~
For those of you who have been playing with your Gelli Art mono printing plates I'm sure you have a huge collection of colourful prints. So what are we actually going to do with all of these Gelli plate prints?
Here are some of the projects Michelle has undertaken to put these colourful prints to use. If you don't have a Gelli plate or a huge collection of Gelli plate prints, you can always use bought background papers or backgrounds you have made using other mixed media technique, like Credit card printing or found object painting.
Swap and Share
One of my crafting friends had admired my colourful Gelli print backgrounds. For her birthday I chose some of my favourite prints and put them into a nice folder. She was delighted with them and even made me a card from one of the prints I had given her.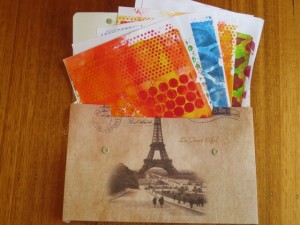 The prints are also fun to swap and share with friends, as each of us has a different style and colour preference, so all of the backgrounds turn out so differently.
Handmade greeting cards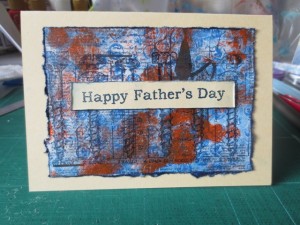 It is easy to turn your Gelli plate prints into lovely handmade greeting cards. My preference is to simply cut or tear to size, add a little ink around the edges and stamp a greeting. Then use double sided tape to stick it to the card. This is a great way to show off the colourful prints and not hide any of the details.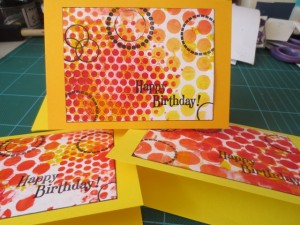 I have also used my punches to cut out shapes from the Gelli plate print. These cards were made for my Christmas cards for 2013. Firstly I punched shapes out os several sheets of gelli print paper, so I had a variety of patterns and colours available. I then arranged the pieces and checked I was happy with the overall colours and patterns. The shapes were stuck down using a glue stick. To finish off the cards are used some Christmas stickers. These were simple to add and stood out well on top of the brightly coloured background.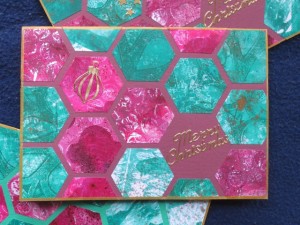 Teabag Folding
Teabag folding is a specific kind of origami. You can buy prints that are identical to make these arrangements. I decided to try using my Gelli plate prints.
Firstly I cut out 8 2 inch squares. Then folded them into the correct shape.
I stuck into the eight pieces carefully into the flower arrangements using PVA glue on a toothpick to get into the folds of each piece.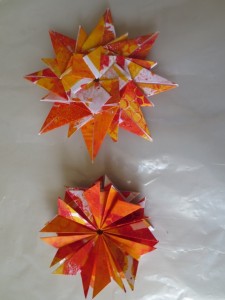 Once the flower arrangement was dry I did added it onto the card background with double sided tape.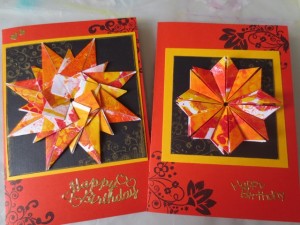 These cards are not as simple as the ones above but they are worth the effort and are perfect for crafting friends who appreciate them.
Art journalling
While I am making my Gelli plate prints, I also use the excess paint from the stencils and brayer in my art journal to create a pre-painted background. It is then easy to use the colour-coordinated prints to add features in the art journal layout.
Here are a few of my favourites: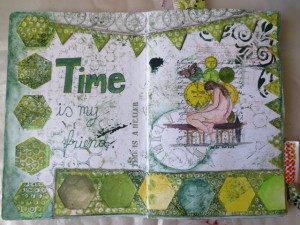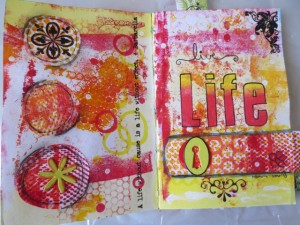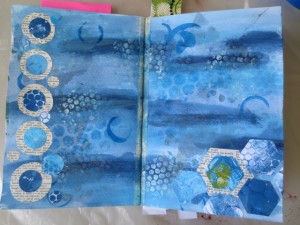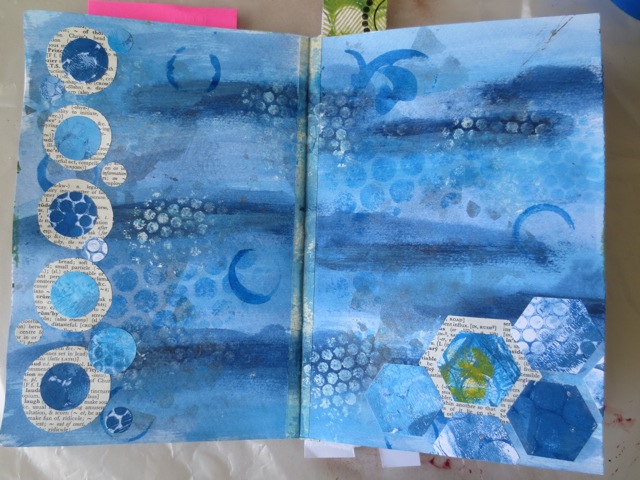 Paper ornaments
For my 2013 Christmas ornaments swap I also used a piece of Gelli plate print. You can see the full details of how these were made here at #4. Like the teabag folding it was a tricky process but I love how it turned out.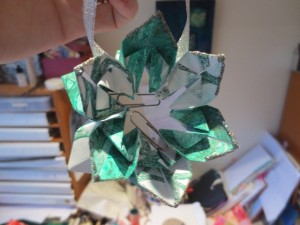 Personalised Envelopes and Stationery
Having these prints lying around certainly makes it handy when you need inspiration. When I needed a quick gift wrapped for a Christmas gift, I decided to turn one of my sheets into an envelope. I then sealed it with double sided tape.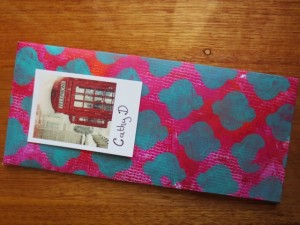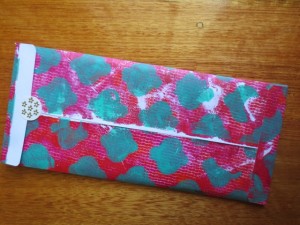 That inspired me to make more envelopes. And want to have finished with the envelopes I still had more offcuts, so I got out of my punches and created some stationery to go with the envelopes, decorating the plain copy paper. It will make a lovely gift.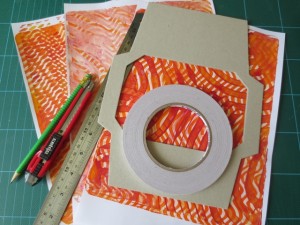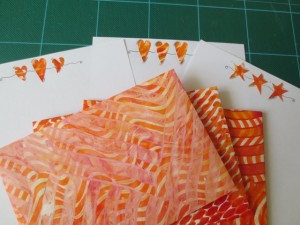 ~*~*~*~*~*~*~*~*~*~*~*~*~*~*~*~*~*~*~*~*~*~*~*~*~
We hope this has given you a few ideas as to what to do with that BIG pile of Gelli plate prints you have been creating. Of course, this list isn't exhaustive – if YOU have another great use for handmade background papers, we'd LOVE to hear from you – just leave a note in the comments!
.

.