~ * ~
This article is written by Linda Hughes
Hi, My name is Linda Hughes and I am a mixed media artist from Chicago, Illinois, USA. Even as a small child I have always enjoyed creating things with my hands. My mother taught me how to sew by hand and machine when I was 9 which began a life long love of sewing and creating all kinds of hand made items.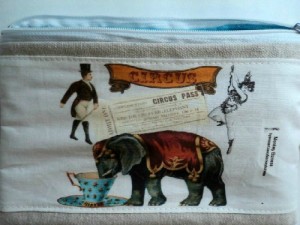 I did for a time have an online store called Monkey Bizness (from 2007-2011). I started losing my eye sight a month after I turned 47, due to a rare form of fast accelerating cataracts and within just a couple short months found myself beyond legally blind. Wearing glasses was not an option so I had to close my store and stop working.  I had corrective surgery in both eyes in 2013, I am so grateful to be given a second chance at sight and back to doing what I love by creating.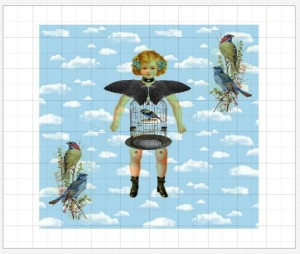 Now days I use my imagination and enjoy the whole process of creating what I hope others will view as memorable works of art. I have always been drawn to and adore anything vintage or Asian and incorporate that in my items I make.  I combine royalty free vintage images and graphic design to create a picture, a story if you may in the form of collage art. Then the fun continues!
I take my finished graphic designs and print them either directly onto fabric or paper which is then used to create my handmade purses and/or note cards.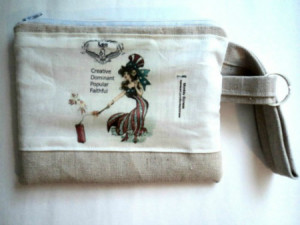 ~*~*~*~*~*~*~*~*~*~*~*~*~*~*~*~*~*~*~*~*~*~*~*~*~
Linda Hughes has created items & sold them in all kinds of mediums over the years but always get lead back to textile work. She has a background in sewing (took a year of sewing) and have done seamstress work off and on through the years and have worked at a costume shop for a time, creating costumes.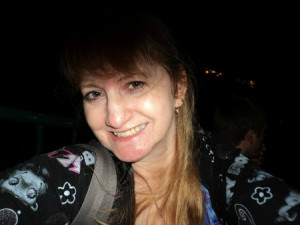 Self taught herself graphic design when she got her sight back. Linda hopes that her story will inspire others to go for your dreams, don't let anything stop you from what you want to do in life. We all have unique talents that we should share with the world to see!
To learn more about Linda Hughes, you can see her store here: hyenacart.com or find her on Facebook
~*~*~*~*~*~*~*~*~*~*~*~*~*~*~*~*~*~*~*~*~*~*~*~*~