~ * ~
As we launch into 2014, a huge range of online art classes have been opened up! At Mixed Media Art, we are often asked about finding local mixed media classes. With access to the internet, ALL of these classes are local – right in your own home!  I love looking through all of these classes, watching their inspiring videos and reading through the activities. To help you choose one, or two, here are the Top 3 Mixed Media Art Classes that have caught our eye!
Hello Soul, Hello Mixed-Media Mantras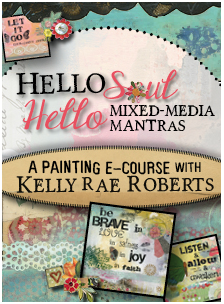 Kelly Rae Roberts has launched her Mixed Media Mantras course that will take you through creating your own mantra and then painting it into life! The course is split into three sections ~ Silencing the Noise * Unleashing your Joy * Trusting your Voice ~ and each one includes videos and access to the amazing community who are taking the class with you.
Kelly Rae tells us that you don't need ANY painting experience but I'm sure your current mixed media skills will be enhances throughout the course. If you love Kelly Rae's painting style and heart-felt words of encouragement, then the class will suit you.
Registration is now open, with the class starting late February 2014. It will be open for 6 months.
See all of the details at Mixed Media Mantras.
~ * ~
48 Weeks
Donna Downey, with her whimsical painting and art journaling style, is bring us year long inspiration with her 48 Weeks online course. Donna tells us:
48 weeks is a work at your own pace online course that includes 48 weeks of creative and expressive art that will inspire you to dig deeper into your creative soul, develop your personal style and leave it on the page. Every 3 months you will receive another 12 weeks of course lessons. these lessons are fully downloadable, which means they are yours forever to save, re-watch, rewind and to reference for a lifetime.
The first "term" is released 1 January 2014 and you can see all of the details, along with the inspiring introduction video at 48 Week Online Course
~ * ~
Mixed Media Vacation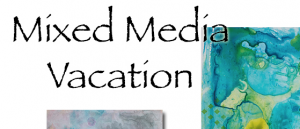 Julie Prichard has had a hectic year and has decided to take all of us on a vacation – a Mixed Media Painting Vacation, that is!!
Pulling out all of the stops and adding in all of the fun, this course includes amazing video and access to Julie and  sharing your artwork through the Google+ community. All of the samples shown are made during the class as you explore these fun mixed media techniques.
The Mixed Media Vacation class is open right now, so go and watch Julie's introduction video to give you a hint of what's to come at Mixed Media Vacation – Bon Voyage!
~ * ~
Disclaimer: All courses are the creations of the artists noted and Mixed Media Art has no creative or intellectual claim over any of the images or content. For more details on any of the courses, please contact the individual artists.
~ * ~
If you can recommend any other online art classes, whether online or near you, you are welcome to leave a note in the comments.
Happy Creating,
Michelle

.