~ * ~
This article is written by Sandra Parés
Today I am going to show you how to make a decorative fridge magnet with mixed media. If you have spent these holidays at home or if you have come back from your trip and you haven't remembered to bring gifts … you can make these fridge magnets to give away to your family or friends!
The supplies I am going to use are the following:
A square piece of wood 6x6cm (you can also use hard cardboard).
Gesso
Modeling paste
An old credit card
1 stencil to make abstract backgrounds
1 stencil with a sharp image to fit inside the square 6x6cm
Acrylic paints in various colors (I am going to use Silks Acrylic Glaze because they will give amazing brightness)
1 brush
1 sponge
1 piece of adhesive magnetic tape
First of all we will put gesso on wood and we will let it dry completely. With this first step we will have the support ready for painting. Then we choose a light colour of our acrylic paints and we will paint the surface with it.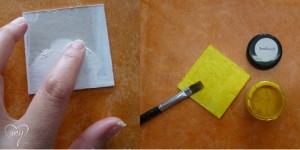 When the layer is dry, we will take a stencil that allows us to add texture over the background and with a sponge we will stencil the template using a contrasting color to the background layer.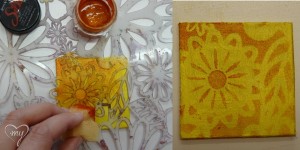 Once dried we will take another template, this time we will choose a stencil with a sharp image. And with the credit card we will catch some modeling paste and we will fill the gap with the paste. With this step we will have a embossed figure. We will let it dry a few hours until the paste is completely harden.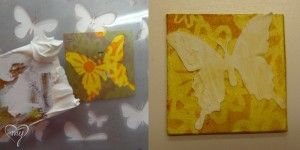 When the paste is dry we can paint the figure with acrylic paints. Also we can paint around the edge to give sense of well finished. Finally when all the work is dry we have to put a piece of adhesive magnetic tape to get the magnet.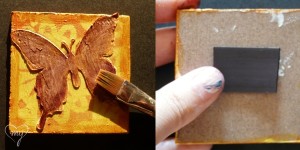 And with this easy way we can make these beautiful fridge magnets: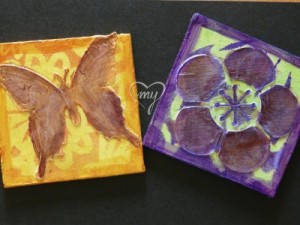 ~*~*~*~*~*~*~*~*~*~*~*~*~*~*~*~*~*~*~*~*~*~*~*~*~
Sandra Parés loves working with mixed media! The colors and textures leave her amazed and she enjoys creating and getting their hands dirty with paint and gesso! On her site My mixed media you can find a mixed media online store, art and craft products, mixed media workshops in Spanish, tutorials, ideas and mixed media techniques.
~*~*~*~*~*~*~*~*~*~*~*~*~*~*~*~*~*~*~*~*~*~*~*~*~
.

.