This article was written by Melanie Statnick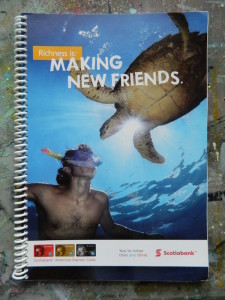 I have been looking for a journal big enough to write some reflections down daily. I didn't want to spend the money. Upcycling is one of the best ways to use your imagination.
I used black gesso to cover the front of the journal. I like using black gesso, I find it covers more and leaves you with a primed black surface that is great to use white gel pens on.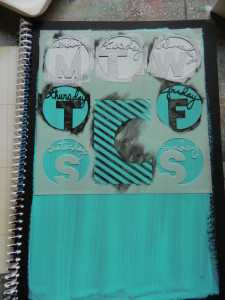 I painted a wide rectangle of turquoise paint over the gesso surface and added a weekly stencil an Artistcellar product.  I used various stencils to create a quick and easy stenciled back ground. Since this is for personal use only I felt more experimental then I did wanting a clean design.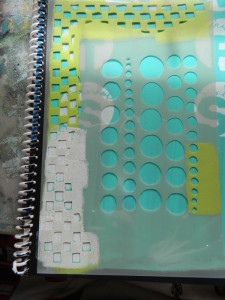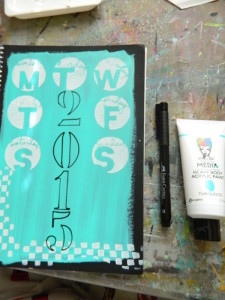 I added the year and later went in to outline the days of the week with a PITT pen, then added some detail to the cover with stars and good use of a white gel pen. Looks similar to a chalk board effect.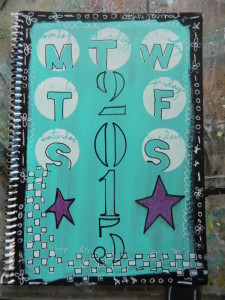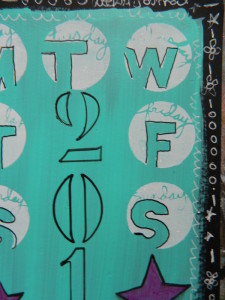 ~*~*~*~*~*~*~*~*~*~*~*~*~*~*~*~*~*~*~*~*~*~*~*~*~
Author bio:
Artist Melanie Statnick is a Published Artist/Writer out of North Carolina who writes and creates art daily from her private studio. Melanie is also the host of her own program via video and local PBS named The Brush & Pen  a Nash Community College production. Visit her website to learn more.
~*~*~*~*~*~*~*~*~*~*~*~*~*~*~*~*~*~*~*~*~*~*~*~*~
.

.