This article is written by Melanie Statnick
My mother is a Tole Painter of over 20 years. I watched her carve out time for her art from work and motherhood. Each night she would spend long hours painting on wood, tin and more. Painting folk art on everything she could alter. She sold her art at bazaars and gave them as gifts to friends and family. She was an inspiration to me growing up. My Father who worked with wood by trade would make what she couldn't find or needed more. The art and carpenter gene was pasted down to me. I adore working with word and altering objects.
I have drawers full of wood blocks, knobs, balls, and cut images. I wanted to share with you what I created. These word blocks are inspiration for art friends, family or gifts.
Materials Needed:
1 Large wood block
1 Small wood block
1 door knob
4 wood balls with flat edge
Acrylic paint
Collage images/words
Wood glue
Gel Medium
Start by painting all four sides of wood blocks, knob and wood balls for the bottom. Have some creative ideas in mind before you start gluing your images down. You can be as simple or elaborate as you'd like. Make sure you have some word rub' ons or stickers you'd like to use.
Stamp, stencil or glue paper to four sides of your square blocks.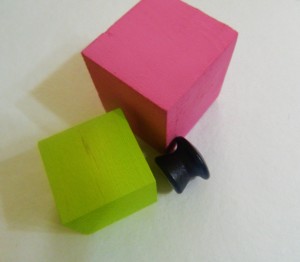 Once you have all your sides painted the way you like you can begin to glue your collage images down to the sides for your blocks. Leave two sides open for a top and bottom with both blocks. Once satisfied with your design use the wood glue to glue your smaller block onto your large one.
You will also need to glue your door knob on top of the smaller block. On your large block follow the same direction leaving a top and bottom open for the small block and "feet" that are the wood balls. Glue your small block on to the large block and glue your wood balls to the bottom of the large block. Glue your knob on last. Leave plenty of drying time.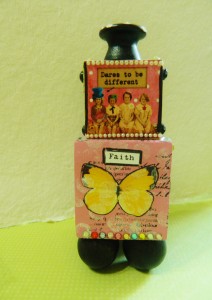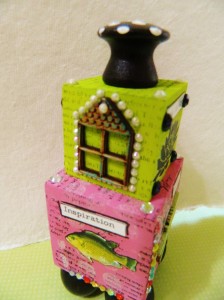 Embellish your word blocks with your intuition. Use the words you've chosen as inspiration to help you complete your blocks. I used gem stones, stamps, and outlined my images. So many possibilities for these. Use different shapes for the knobs and feet. Get creative and have fun!
~*~*~*~*~*~*~*~*~*~*~*~*~*~*~*~*~*~*~*~*~*~*~*~*~
Author bio:
Melanie Statnick is a Canadian Mixed Media & Collage Artist out of North Carolina. Melanie creates art daily from her private studio. You can see her artworks at her website www.melaniestatnickart.com. Her style is fun, whimsy and eclectic. Melanie is also an Art Instructor for local venues and community colleges for students of all ages.