~ * ~
This article was written by Anjuli Johnson
I wanted to give myself a big break before writing this review, because I find when I allow myself time, I hold on to the main parts I took away from the class, and forget the rest.  What did I really learn from Janelle Nichol?  Was it more than just a fun class? Is it something that I'll continue to draw on as I keep creating?  Giving myself a month to write this has made me understand that yes, it was more than a fun class.  Her techniques and instruction have influenced my work and made me a better artist.  I go back to what I learned often and am so grateful I took this course.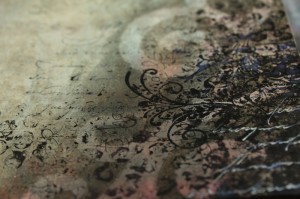 The main thing I took away from the Fashionista class was how she pushed us to keep going, keep working and see what happens, especially when working abstractly and with backgrounds.  I tend to add two layers at most, because I get so attached to the elements I've added and I want them all to show on my pieces.  I came into this workshop with the same attitude.  I began by saying "Ok, this is more than I usually do, but I have to follow the directions…" which progressed to "Dang, this is a lot and I'm kind of tired of working on this background.  Can't we just stop now?"  to finally saying "Wow, I can't believe how awesome this looks… I need to do this more often!"  I found that when I followed Janelle's instructions to keep working, my backgrounds took on a depth that they've never had before, and that experience has carried over into the work I've done since, including some commissioned pieces.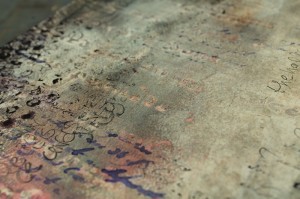 I loved this workshop because it was detailed, encouraging, and Janelle was very knowledgeable; but I especially loved how it pushed me to do things I was uncomfortable with.  It's a long class, but Janelle has split it up into several parts, so it's easy to take breaks and come back if you need to.  She gives a full list of supplies and carefully explains what she's doing and using, which makes it easy to follow exactly, or substitute other supplies in if you don't have something or want to use something else.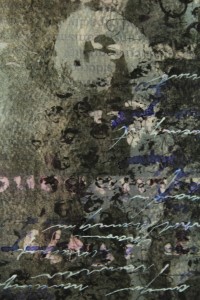 I would definitely recommend Janelle's classes.  She's an artist that I am proud to have learned from.
You can find Janelle's Fashionista Class here on SkillShare
~*~*~*~*~*~*~*~*~*~*~*~*~*~*~*~*~*~*~*~*~*~*~*~*~
Anjuli Johnson is a Mixed Media Artist from Raleigh, NC.  She began her art career as a scrapbooker, and it's been an evolutionary process every since.  She loves all things mixed media- paper, glue, paint, canvas, pens, wire, gears… the list goes on and on.  She is constantly trying to push through her fears to discover and develop her talents, meet new people, and learn from and inspire those around her. Facebook.com/TheFarPavilion
~*~*~*~*~*~*~*~*~*~*~*~*~*~*~*~*~*~*~*~*~*~*~*~*~
Disclosure: Access to this course was supplied by Janelle Nichols for the purpose of review. All opinions are that of the MixedMediaArt team. Some links on this page may be affiliate links and any purchases help to support the ongoing work by MixedMediaArt.
.

.