This article was written by Michelle Brown
I've signed up for a tip-in page round robin with one of the groups I belong to over the internet. We are to create a layout of 2 pages each month to send to another on our list.
Last month the assignment theme was mermaids and sea creatures and I had heaps of fun creating this layout. I also love the method and formula that seems to be developing for this project and that's what I wanted to share with you today.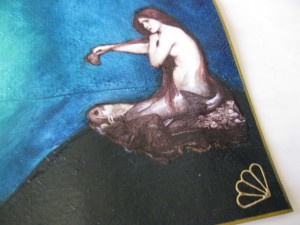 Firstly I take a piece of water colour paper and tape it to a backing sheet, covered in cereal box plastic (as shown in MMA Tips Video #1), add some ephemera with PVA glue then cover with a layer of gesso.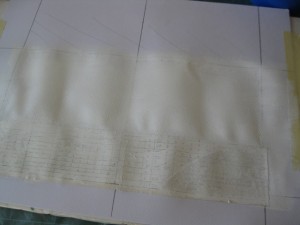 Then I started adding acrylic paints. I was after an effect of looking up into the sunlight from depth of the ocean, so I wanted to use teals and blues and phase them into white. I build up each layer, blending al title between colours and allowing it to dry a little before I add another layer.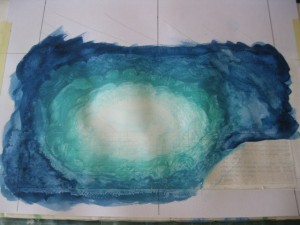 I painted the rock for the mermaid with  a little brown and dark blue. I avoided using black as I wanted it to be dark but not too solid, so the brown and navy washes worked well.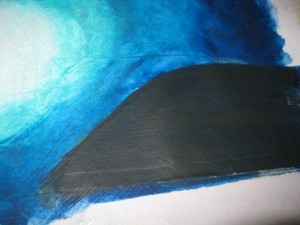 I found a great quote via Google and typed in up in nice font, printed it out then for it into strips. These got stuck onto the background along with the mermaid, with gel medium. The mermaid image was found over at Paper Street Supplies (no longer available.)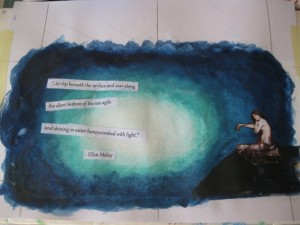 Then some more blues were added to make the border darker and stencilling, with white paint, and highlighting words, with water coloured pencils, were added.
After varnishing the layout, I realised it needed a few highlights, Since I couldn't find my gold thread to add hand stitching, I chose to use a textured stamp and add a free area with Gold Brilliance ink. I heat set the stamping  with a heat gun as I was worried it may not dry properly over the varnish (and I was in a hurry!)
Then I cut out the pages with a cart knife and metal ruler, added gold edging with metallic pens. i also added a few little gold sticker and some german scrap to finish it off.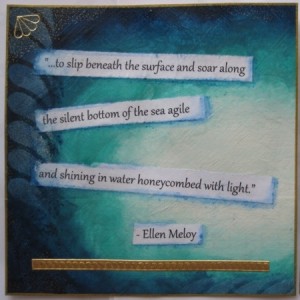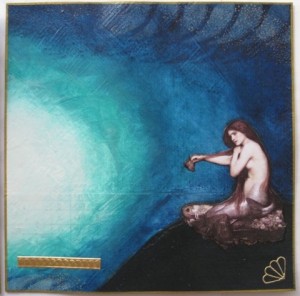 ~*~*~*~*~*~*~*~*~*~*~*~*~*~*~*~*~*~*~*~*~*~*~*~*~
Michelle Brown is passionate about mixed media art and enjoys sharing her knowledge and techniques with you to allow you to express your own creativity. Michelle understands that many of us have an inner need to create. By learning a few basic techniques the amazing world of mixed media art is accessible to everyone! You can see more of her work at Mixed Media Art.
~*~*~*~*~*~*~*~*~*~*~*~*~*~*~*~*~*~*~*~*~*~*~*~*~
.

.