It's no secret that at Mixed Media Arts we love to create. We want to use materials that we have at hand, or are fairly cheap and easy to buy, as compared to corporate lines of specialty papers and embellishments where you need to buy something from the entire range as the colours don't match with anything else. It can be very frustrating.
Today we will look at what we need to add those finishing touches to our mixed media artwork.
Part 4 – Embellishments and Found Objects
Another of my favourite mixed media materials is everyday objects to use as embellishments, adding that finishing touch or element of gold to complete your piece. I collect all sorts of metal and found objects as you never know when one may come in handy. This greeting card is embellished with an old sandal buckle and ribbon.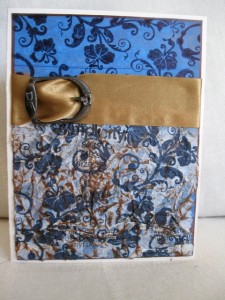 Metallic paint to add in touches to the backgrounds will make a great highlight. Or glitter glue that comes with a fine nozzle makes adding features or highlights by hand easy. (like this Stickles™ Glitter Glue Silver By The Each
)
Use buttons as embellishments, reused from old clothing or spare ones from sewing friends or project.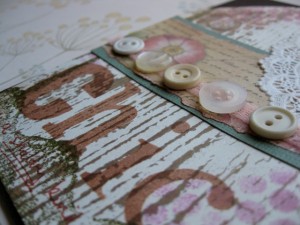 Brads or eyelets are fun to use but we don't need lots of colours; stick to basic black or gold. Then if you need to change colours, you can paint them, change colour with alcohol inks or metallic leafing pens. By using these in your work as well, it ensures the colours will match. It is amazing how many shades of gold there are and you will be forever trying to match odd ones if you have collected too many over the years.
By using paint to colour your embellishments as well as in your background, your colours will always match.
Using punches is also an economical way of creating embellishments. After the initial outlay of the punch, you can use papers to match your background or paint with the same colours. Circle punches are my favourite!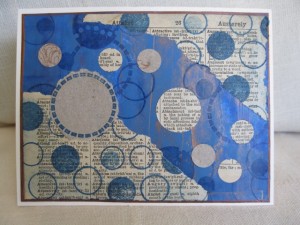 I hope you have enjoyed our mini-series on our favoutire mixed-media materials.
Happy Creating!
.

~*~*~*~*~*~*~*~*~*~*~*~*~*~*~*~*~*~*~*~*~*~*~*~*~*~*~*~*~*~
Here are other materials that I like:
My Favourite Materials – Part 1 Cardboard
My Favourite Materials – Part 2 Text Ephemera
My Favourite Materials – Part 3 Painting Tools
My Favourite Mixed-Media Materials – Part 4 Plastic Sheeting
Some further reading…

.