This article is written by Jenny Panda
Last year I made a collage/mixed media picture based on my sister Val's life. She was born in India, moved to England and  I tried to combine all kinds of fleeting glances of memories from her life into the picture.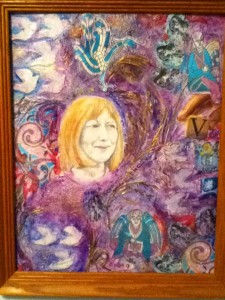 I used matte media to build up certain parts of the pic: doves and textures of various things. I drew her portrait and used a photocopy of that which I embellished with gold for her hair and various parts of the rest of the pic.
I used photocopies of an Indian dancer painting I had done to add patterns here and there, also some Celtic pics as we have theological and Celtic roots.
There were many varied memories to incorporate into the composition.
I was so glad to have made the pic as she recently died and now I have this with which to remember her.
~*~*~*~*~*~*~*~*~*~*~*~*~*~*~*~*~*~*~*~*~*~*~*~*~
Jenny was born in India, during British Raj, educated in England, then moved to Canada in 1970. She has taught in England and Canada for 34 years with an emphasis on creativity; art, drama, music, children's literature and computer exploration.
Jenny is now an Executive Member of Fine Arts Society of Milton
You can see more of Jenny's work on her blog Jenny Panda
~*~*~*~*~*~*~*~*~*~*~*~*~*~*~*~*~*~*~*~*~*~*~*~*~
.

.