~ * ~
This article is written by Gloriann Irizarry
From a gift box to a one of a kind hide away doll house in a few easy steps.
This article will help you unlock hours and hours of play time for any toy enthusiastic ages 0 to over 100. Step by step instructions will guide you through to the final steps of your own one of a kind hide away box doll house play set, with some simple materials
Materials for the Hide-away Doll House Play Set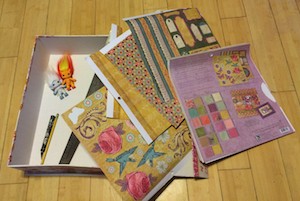 Decorative gift box in this project  17 ½ x 12 x 5 ½ by Abbigton Park ™
White foam board
K & Company Specialty 12 x 12 Specialty Scrapbook Paper
DCWV The photo Stack 2 for grass, stone, flowers and water
Xacto or hobby craft knife
Scissors
Pencil
Metal ruler
Hot glue gun
Mounting repositionable spray
Pick your favorite size toys like Funko My Little Ponies, MLP blind bags,  Littlest Petshops, Polly Pockets, Frozen mini dolls also Zelfs and Shopkins by Moose Toys.
With the metal ruler measure the foam board to 5 inches to 16 ¼  with the pencil. Now with the your Xactor or hobby crafts knife and your metal ruler cut your foam board exactly at the 5 x16 ¼  pencil markings.
Do the same with your favorite scrapbook paper of choice . You will have to layer the papers since the flooring is a little longer than the paper stack. Choose your favorite glue to adhere the flooring. The glue used here was Mounting repositionable spray as it's a lot easier to use than the permanent kind. If glued wrong repositionable adhesive can be adjusted.
Spray the glue by holding the can  6 inches away from the  flooring paper  and wait a little tfor the glue to get a little tacky and secure it to the foam board.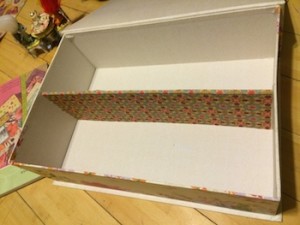 Measure and mark in half your gift box for the second floor for your doll house playset. Use the hot glue gun to adhere the paper covered foam board to the gift box. Make sure enough hot glue is used to secure it in place.
Now measure the upper half and choose your favorite specialty paper.  For this house 2 sheets of 12 x 12 papers were used and layered to create a seamless wallpaper effect. Once the paper is cut to size use the Mounting repositionable spray  and spray a even coat of glue. Let it get tacky and carefully place it inside the box and secure it. Rub to remove any air bubbles out.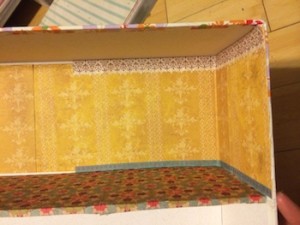 Now to finish the walls the Specialty Paper by K & Company stack comes with borders stickers that will work wonderful to finish the wallpaper on the top and the bottom of the walls. It is recommended to choose contrasting colors.
For the lower level floor you will follow the same steps as described above. You can choose the same color or a different color to give the doll house some character. That's why a nice hunter green pattern was used.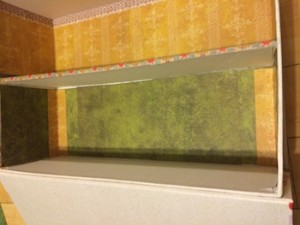 If you want to make sure everything looks nice you can add corner strips to the lower lever in the same paper use on the top.  Now finish the wallpaper with some border stickers to cover any imperfections and creates a nice finish.
Now the opening of the gift box is going to be use has a garden. The Photo Stack 2 has nice natural patterns. 2 sheets of the grass were used to give the effect of an open outside garden.
Measure and cut to fit and use the Mounting repositionable spray to adhere to the top of the gift box.
Rub any air bubbles out and let it dry.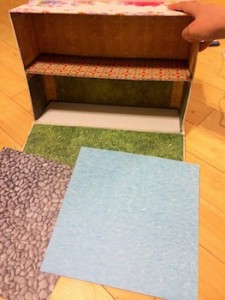 Now the garden is ready but it seem like it need it something. In the same Photo Stack 2 we can find another interesting patterns like this water and river rock .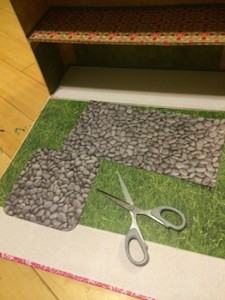 Use the river rock pattern to create a garden path with a seating area.
Cut with the scissors or hobby craft knife the shape you want them to look. Now spray an even coat of Mounting repositionable spray and place them on your garden.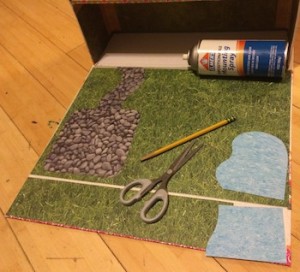 Use the Photo Stack 2 water pattern to create a side pond. You can draw the shape on the back with the pencil and cut it off with the scissors or the hobby crafts Knife. Apply a nice layer of Mounting repositionable spray to the cut outs and secure them in place.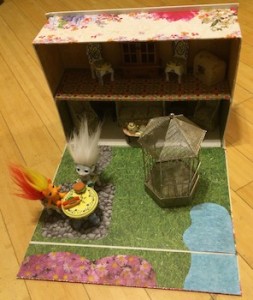 Now every garden needs to have some pretty flowers. Now the Photo Stack 2 we found a nice batch of them ready to be cut to shape and again secure it with the repositionable mounting spray.  Now that the flowers are in place the garden is ready for the Zelfs Angelala and Little D play date.
Add some doll furniture and your Gift Box Doll House Play Set is ready to be played with.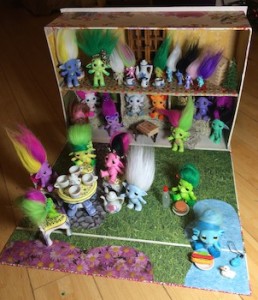 Invite a few of your good Zelfs friends like Tressa, Fluttershy, Elsa, Vampula, Frostette, Flamy and Snap Jack. Now lets start the tea party.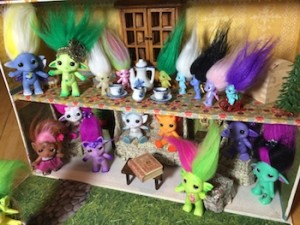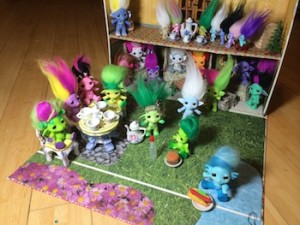 All the little Zelfs Troll having a blast in their new one of a kind Doll House Play Set.
This size house works wonderful for any Mini, medium or large Zelfs. Also Shopkins, Littlest Petshop, Polly Pockets, Frozen Elsa, Olaf, Kristoff, Sven, Funko, My little ponies, MLP blind bags and even lego Mario Bros.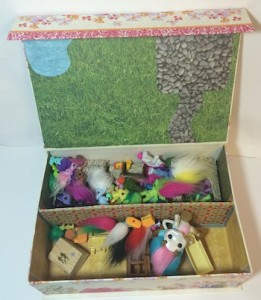 Once you're done with play time all you have to do is pack all the dolls and accessories in.
After play time is over all you need to do is close your box and it is ready to go.
Easy way to spark any kids imagination and the fun in this project is you can customized your play set to your favorite colors and style.
~*~*~*~*~*~*~*~*~*~*~*~*~*~*~*~*~*~*~*~*~*~*~*~*~
My name is Gloriann Irizarry. I was born and raised in the beautiful Caribbean island of Puerto Rico. Ever since I can recall, I always had my hands on crayons, scissors and paper. My parents knew from the start how much I love to create!
As a mother of three young wonderful daughters, I find myself working, caring for my family, and taxiing kids from here to there for various sporting events.  I have to say I'm never bored!  I enjoy every little moment I spend with my girls, but will always continue to work time to create art into my daily schedule as that means doing what I love the most. My girls are learning the joys of creating also!
I love to sculpt and will never stop creating. I was born this way and for that I thank GOD every day. Art has been a great way to be creative and to express myself.  I like to keep my hands busy creating – whether it is unique jewelry, art dolls, oak sculpture figures, fairy wings for all your project needs, or even wigs and clothing for your sculptures.  I love all the variety in art! Why? because ART is so rewarding. Seeing your creation take form is an awesome feeling.
You can see more of my work on my website – ByGlori
~*~*~*~*~*~*~*~*~*~*~*~*~*~*~*~*~*~*~*~*~*~*~*~*~
.

.