~ * ~
This article was written by Melanie Statnick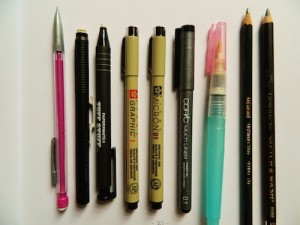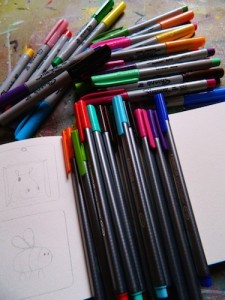 Hi I'm Melanie and I'm anArtsupplyaholic. I have everything I could possibly need and then some. Recently I went to a craft store to find yet another pencil with a specific led type that I didn't need. Do you find yourself in this spot often? Too often?  I know the urge to shop for all the newest toys is on your mind the next time you get paid.  However when you're on a budget this is the worst thing you can do with your already tight income.
As I looked around at all the new papers, canvases, pens, pencils, stencils, paints, brushes the urge to "just get it"…washed over me. As I looked at some of the coolest stamps I've seen I thought "What am I doing buying? I can draw this."And so can you.  I know when it comes to stamps who can resist getting the cutest one or the one that is just perfect. I can't tell you how many times I've heard from students "I can't draw astraight line".  Or just plain "I can't draw".   I didn't leave that store with anything because I was determined to learn to draw my own images and save the 20 bucks.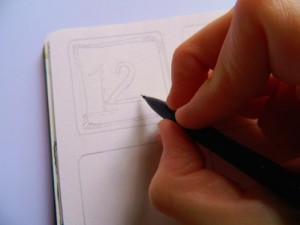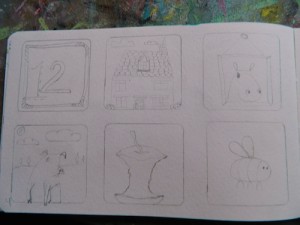 The simplest stamp of a snowman, a mason jar, pumpkin and more are some of the simplest stamps I've seen and we buy them for convenience. I'm a self-taught artist and I believe that I can learn anything. Over the last 4 months I've sat with my journals, pens, pencils, markers and watercolors and have been teaching myself to draw. Years ago I didn't think I could until I practiced every day. That is all it takes. There are so many books on how to draw and websites that have an abundance of inspiration.  But are you any good?  Yes you are.  We have to get past being perfect, realistic and spot on. It would amaze you to know how many people appreciate the imperfect cute doodle.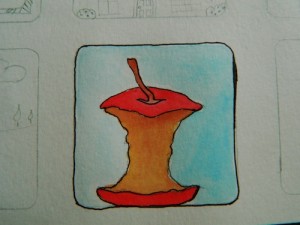 Draw out 6 squares in a sketch journal and get your toes wet.  Be fearless with your drawings and learn to let go of how many Facebook "likes" your photo of your drawing gets. What is most important is that you like what you draw and you can draw a straight line. Practice 6 block drawings for 21 days and watch how amazing you become. Stop buying and start drawing.
~*~*~*~*~*~*~*~*~*~*~*~*~*~*~*~*~*~*~*~*~*~*~*~*~
Melanie Statnick is a published artist/writer out of North Carolina. Melanie creates art daily from her private studio. Her style is happy and whimsy. Statnick's artwork can be found in art galleries and shops extensively in NC with international private collections. Learn more about Melanie view her website at: www.melaniestatnickart.com
~*~*~*~*~*~*~*~*~*~*~*~*~*~*~*~*~*~*~*~*~*~*~*~*~
.

.